The ViennaUP22 Week is all about connecting corporates, startups & talents. Proudly supported by Vienna Business Agency and other involved partners.

ViennaUP22 is a decentralized community-driven festival in the heart of Europe, shining a light on what the future of technology holds. Together with its contributing partners, ViennaUP creates a unique interconnected experience for startups, investors, tech enthusiasts, creatives, and visionaries.
It is all about creating meaningful connections and starting first conversations with smart minds. Participants have the opportunity to dive into hotly discussed topics across different industries, expand their international network, and get inspired by the Viennese startup scene – one of the most diverse and fastest-growing startup communities in Central Europe.
ViennaUP22 will welcome startups, investors, experts, and thought leaders to our fair city for a solid week of hot topic discussions, deep dives, networking opportunities, and fun. Mark your calendars and join us from May 27 – to June 3: You won't want to miss this.
They say it takes a village to raise a child – and an ecosystem to create a unicorn. Here in Vienna, we are proud of our growing local startup scene and look forward to sharing it with the world from May 27 – to June 3, 2022, at ViennaUP22.
We look forward to:
30+ program partners, including key players from the local and international startup scene plus high-profile investors
60+ events, from conferences and network meetings to workshops and lectures with a strong focus on trending topics such as Smart City, Impact Entrepreneurship, Life Sciences, Creative Industries, FinTech, and many more.
Participants have the opportunity to dive into hotly discussed topics across different industries, start a conversation with other smart minds, expand their international network, and get inspired by the Viennese startup scene – one of the most diverse and fastest-growing startup communities in Central Europe.
Tech Jobs Fair is associated with ViennaUP22:
We are delighted to have ViennaUP as our supporting partner for organizing the largest physical job fair event in Austria which will be held on 3rd June 2022 at Aula der Wissenschaften, Wollzeile 27a, A-1010 Vienna, Austria.
Tech Jobs Fair was launched as a platform to empower brands and bring talent under a single roof. TechJobsFair began its journey in Berlin, where it held its first job fair for people in the IT industry. TJF operates with a core team in Berlin with event-based engagement with local professionals in various cities pertaining to job fairs.
TJF Vienna 2022 is the place to be if you are looking for a new job and also a great networking opportunity to grow your network while meeting with people from different countries. For companies, it's a good occasion to meet many potential recruits at once. Interacting with employees of many different organizations is an opportunity for job seekers. They get to meet the company's workers in person before getting a job, and they get to learn about its work culture.
We are excited to announce that the following companies have joined hands with TJF for the upcoming Tech Jobs Fair Vienna' 22.
Vienna Business Agency, WP Event Manager, Nordcloud, Netconomy, ACMIT, Suppliot, TTTech, Enspired-trading, Speedinvest-heroes, Nuki, Xund, Anyline, Erstebank, Ages, Dotbite, Youniqx Identity AG, Morpher, Sanusx, Austrian Power Grid, Qualcomm, Epunkt, Linguidoor Translation Services, ÖGV – Startuplehre, Teach For Austria, and, WaterDrop.
Apart from the above-mentioned exhibitors, we're happy to announce Vienna's top community partners and media partners that have joined us:
Loffice Wien, The female factor, ViennaUP, Startup Live, Raw Culture, and weXelerate
The following keynote speakers will be joining us at Tech Jobs Fair Vienna
Mario Kleinsasser, Markus Nistelberger, Cornelia Habetler, Adela Mehic-Dzanic, Martina Ernst, Kambis Kohansal, Wierong Li, Helene Richter, Alessandro Wärzner, Ani Harreither, Dr. Felix Schernhammer, and Martin Froehler.
It is a great opportunity to meet hundreds of job seekers of all ages. Join us on 3rd June 2022, 14:00 to 19:00 (CEST). Job Seekers can get their FREE TICKETS by visiting from here. It is the right place to highlight and promote your brand/company. We hope to see you there!
Top Focus of ViennaUP22: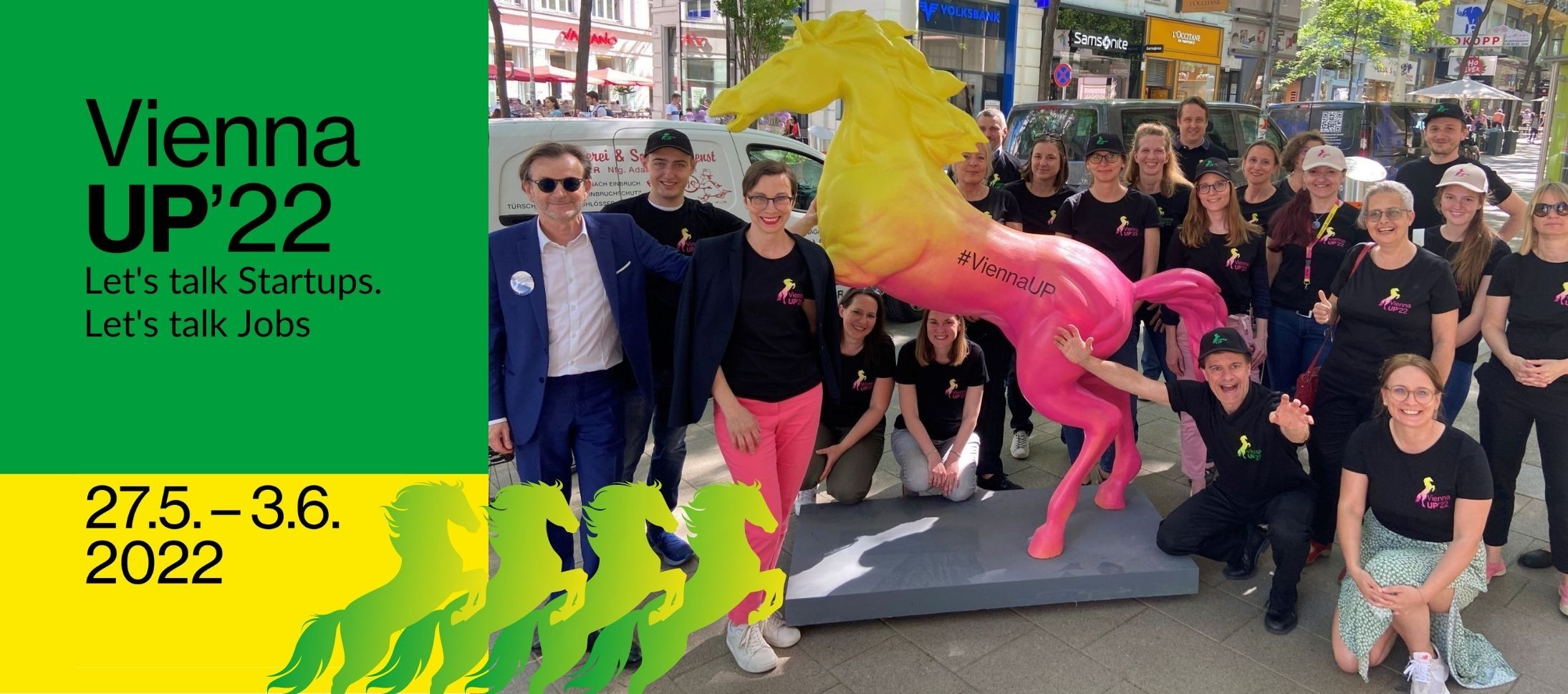 Photo credit: © Wirtschaftsagentur Wien
From Technology to Beyond
The world is in motion. It is a fact that for centuries people's ways of life have been influenced by the technological progress faced by their generation. Examining this reoccurring idea of society and progress both framed by technology it´s clear how enormously each factor influences the other. ViennaUP offers new perspectives on the role of technology in both business and cultural dynamics and highlights the transformation spaces of the world around us across various events.
In a variety of settings, the ViennaUP community will tackle topics such as smart cities, digital humanism, impact-driven entrepreneurship, creative industries, gender equality, and sustainability. Today's technology, which we took for granted, opens the doors to an even more creative world.
Let's discover it throughout ViennaUP22. Meet people from different backgrounds, learn from best practice examples across diverse industries and talk to forward-thinkers about what will matter in the future.
Get involved in stimulating conversation about the transformative power of technology amidst Vienna´s most impressive locations.
From Now to Future
Tomorrow is a challenge we can face together. Decisions made today will affect how the future will turn out. ViennaUP brings together the know-how of specialists from different sectors to discuss the various disruptions to our current way of living and how we can navigate them to the benefit of all.
Across several formats, we'll create opportunities to connect with mind blowing speakers from the innovation space and facilitate intimate setups for exchange on relevant future topics, while also showcasing today´s solutions for tomorrow´s challenges. How do you imagine the world will look 50 years from now? Join the conversation and let's brainstorm together.
From Vienna to Global
Here at ViennaUP we´re all set to create a unique Viennese experience for a global audience. Vienna is different, and so is ViennaUP – a unique decentralized festival created by the community for the community. With a series of a startup- and innovation-related events, we´re building a bridge from Vienna to the rest of the world. Be ready for dozens of opportunities to experience inspiring talks, make authentic connections with participants from across the globe, and experience the city first-hand.
Although the ViennaUP'22 festival is already running, there are still tickets available for most of the events and that most of the events are hybrid. So if anyone from around the globe would like to join, register from www.viennaup.com
Stay tuned!
Join 20,000+ Subscribers
Get exclusive access to new tips, articles, guides, updates, and more.