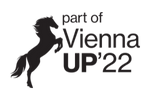 Company Size: 200
Mariahilfer Straße 20, 1070 Wien
Founded: 1982
ViennaUP´22 digital
Let's talk startups.
27.5.-3.6.2022
Europe's most authentic startup experience!
Vienna will send a unique digital sign to a global audience: With ViennaUP´21 digital the city will host the largest decentralized and community-driven virtual startup-event in Spring 2021. Given recent developments and the remaining uncertainty in terms of COVID-19, ViennaUP´22 takes the next leap and goes 100% digital. Health comes first, but that doesn't mean forgoing networking with an international audience of startups, investors, companies and talents, as well as learning opportunities and having open conversations.
Initiated by the Vienna Business Agency, ViennaUP´22 digital brings together all relevant stakeholders – both international and from the local scene – and covers in a series of online events pioneering topics in the field of innovation, creativity and technology. This is a unique opportunity to reach out and connect to a global audience of startups, investors, companies and talents from the comfort of your homes.
Participants have the opportunity to dive into hotly discussed topics across different industries, start a conversation with other smart minds, expand their international network and get inspired by the Viennese startup scene – one of the most diverse and fastest-growing startup communities in Central Europe.
Information and Registration
The registration for ViennaUP´22 digital will start in the middle of March – all information about how it works, program and news can be found on viennaUP.com.