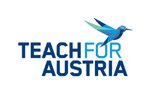 Company Size: 40
Marxergasse 4A, A-1030 Wien
Founded: 2011
For ten years, Teach For Austria has been working to ensure that children can pursue successful educational pathways regardless of the education, income and origin of their parents. As part of a global movement (61 countries on 5 continents), more than 500 fellows and alumni in Austria are already committed to provide equal opportunities together with a strong network of organizations and decision-makers from politics, education, business and civil society.
Seit zehn Jahren arbeitet Teach For Austria dafür, dass Kinder unabhängig von Bildung, Einkommen und Herkunft der Eltern, erfolgreiche Bildungswege gehen können. Als Teil einer globalen Bildungsbewegung (61 Länder auf 5 Kontinente) setzen sich bereits über 500 Fellows und Alumni in Österreich gemeinsam mit einem starken Netzwerk von Organisationen und Entscheidungsträger*innen aus Politik, Bildung, Wirtschaft und Zivilgesellschaft für Chancengleichheit ein.