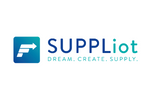 Company Size: 7
Guntherstraße 6, AT-2301 Groß-Enzersdorf
Founded: 2019
You dream it, we code it. Träumen darf man immer, aber wir von SUPPLiot mit Sitz in Wien/Niederösterreich gehen einen Schritt weiter. Wir verstehen, optimieren und digitalisieren als vertrauensvoller Partner die Unternehmensabläufe unserer Kundinnen und Kunden im KMU-Bereich.
Unser Team besteht aus Prozess-Versteherinnen und Digitalisieren mit breitem wirtschaftlichem und technischem Know-how. Partnerschaftlich arbeiten wir daran, alle relevanten Business-Abläufe ressourcenschonend, nachhaltig und effizient in einem Tool abzubilden. Wir schaffen Brücken zwischen Theorie und Praxis, zwischen digitaler und analoger Welt, aber vor allem auch zwischen Logistik und IT.
Benefits für Mitarbeiterinnen und Mitarbeiter: 
– Teamevents – von Pizza-Friday über Gokart fahren bis Business-Run
– Snacks und Kaffee
– eigener Parkplatz vor der Tür
– Gleitzeit und Homeoffice
[EN]
You dream it, we code it. You can always dream, but we at SUPPLiot, based in Vienna/Lower Austria, go one step further. As a trustworthy partner, we understand, optimize and digitize the business processes of our customers in the SME sector.
Our team consists of process understanders and digitalizers with broad business and technical know-how. We work in partnership to map all relevant business processes in a tool in a resource-saving, sustainable and efficient manner. We create bridges between theory and practice, between the digital and analog worlds, but above all between logistics and IT.
Benefits for employees: 
– Team events – from Pizza-Friday to go-karting to business run.
– Snacks and coffee
– Own parking lot in front of the door
– Flexitime and home office