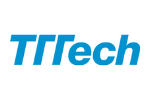 Company Size: 2300
Schönbrunner Strasse 7, 1040 Vienna
Founded: 1998
The people who join us change our company – The products we build together change the world
We actively research and develop innovative technologies for tomorrow. The TTTech Group companies, together with their customers and partners, do pioneering work for megatrends such as autonomous driving or Industry 4.0. Whether in the air, on the ground, or in space: We network, automate and connect. To make this possible, we develop network platforms and controls to the highest safety standards.
To turn our innovative ideas into a reality, we are searching for team players who want to work together with us to advance our customers' goals. Our expanding companies offer a dynamic and diverse work environment in the fields of software, hardware, and chip development, and in central company services functions. Diversity is a key driver of innovation in every respect: Our TTTech family brings together people from over 60 nations, who collaborate on unique projects with renowned customers and partners all over the world.
Over 2.300 employees from more than 60 nations work in 14 countries for TTTech Group companies, ensuring close proximity to its international customer base as well as to its valued partners around the globe.