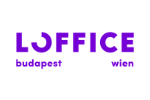 Company Size: 2
Schottenfeldgasse 85, 1070 Wien
Founded: 2011
In 2011 we were among the first coworking pioneers in Vienna, while in Hungary we opened the country's first coworking space in 2009. Today – thanks to all the innovative ideas and our diverse community – Loffice is home to creative entrepreneurs and cultural initiatives of all sorts. 
The aesthetically designed Loffice Loft is a real highlight at Schottenfeldgasse 85, in the middle of Vienna's creative district.  A former shoe factory has been transformed into a modern design space, merging urban lifestyle with character and art. Individual workstations, separate offices, meeting and event rooms alternate on 2 floors.  Modern & iconic design furniture meets upcycled materials. Paintings and photos by emerging artists and creative installations provide colour and variety, enfusing the space with life and inspiration. 
We are open to everyone.  At Loffice Wien, you can meet solo freelancers, startup founders or whole teams working in industries from law, finance or food to arts & human sciences. This is what keeps us diverse & results in so many collabs within our community and outside as well.