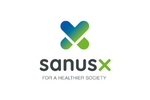 Company Size: 30+
Kundmanngasse 21, 1030, Wien
Founded: 2020
SanusX is a Corporate Startup, funded and owned by UNIQA Insurance Group. SanusX ideates, incubates and scales health and wellbeing solutions in close collaboration with partners spread across the health ecosystem.
We are innovation driven pioneers striving to make the world a healthier place by ideating, incubating and scaling new business ideas in healthcare. We aim to grow into the role of a holistic health provider that accompanies individuals on their lifelong journey to stay healthy and get healthy.