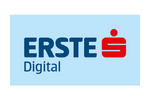 Company Size: 2000
Am Belvedere 1, 1100 Wien
We are part of Erste Group – the largest banking group in Central and Eastern Europe, with more than 2,500 branches and over 45,000 employees.
Our more than 2,000 IT experts and enthusiasts are the bank's digital muscle. We strongly believe that the future of banking is digital, and with top-notch technology we are driving the realization of Erste Group's vision: to provide human banking in digital times and build financial health for over 16 million customers in the CEE region.
Grow your career with us
Join the Erste Digital team and make a difference to the financial life of millions of people in Europe. Making sound financial decisions and handling your finances efficiently are crucial for everyone's future, so our job involves much more than just enabling daily financial transactions.
Together with our colleagues from all over Erste Group, we are much more involved in co-creating and providing digital services to foster financial health for everyone – regardless of their status, nationality, faith, gender or age.