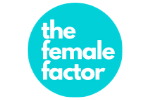 Company Size: 11-50
Liechtensteinstraße 111-115, Vienna, Vienna 1090, AT
Founded: 2019
The female factor is a curated global community for a new era of female leaders, creating tailor-made career and business opportunities by boosting connections, confidence & competence.
our story
Tremendous social, political, environmental and economic forces have radically reshaped life as we knew it, and one thing is clear: Our world increasingly needs us to show up in a more human way.
It's time for a new era of leaders who demonstrate self-awareness, empowerment, high levels of emotional intelligence and a collaborative mindset. We believe that by embracing their innately feminine power, their "female factors" such as empathy, intuition and compassion, women will step up, leading our world for the better.
our core
According to research, a woman needs three things to succeed in her career: Confidence to believe in herself, connections to lift her up & create opportunities, and the right set of competencies to deliver results.
Our research-backed opportunity journey is designed to help women get ahead with the right mentors, hands-on career knowledge, accountability partners, confidence training and a great network of peers.
Together we are enabling women to seize opportunities, get their seats at the table and build a brighter tomorrow for all of us.