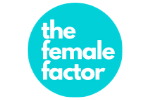 Company Size: 11-50
Spaces Square One Leopold-Ungar-Platz 2 Stiege 2, 1. Stock 1190 Wien
Founded: 2019
The female factor is on a mission to close the (gender) leadership gap.
We are a global community for a new era of female leaders enabling them to get their seat at the table by boosting confidence, competence & connections. We support these female leaders through mentoring, networking and our career programs.
Through this partnership the female factor is providing 10% discount on the paid membership plans with the code TJFBelieveInYou – learn more and apply here.