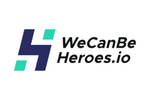 Company Size: 45
Stiftgasse 21/28
Founded: 2016
Another classical job platform? Absolutely not. Our mission with wecanbeheroes.io is to connect promising heroes with cutting-edge European startups, overcoming all the obstacles this industry is facing when hiring talents.
Everyone has their own superpower, and on our career platform, you can find the job that will reveal your full potential to become your own superhero!
We stand for:
Trust
Kindness
Data
Passion
Speedinvest Heroes is the HR-Tech company that owns the brand wecanbeheroes.io. Let it be recruiting or consulting, through all of our services our top priority is you, the talent. In case you're wondering why the answer is simple: you are the hero of tomorrow. The opportunity to disrupt industries and change the world is in your hand. And we couldn't be more excited to see the results of perfectly matching a promising talent with a brave startup!