Early Bird Offer Expires in
(London, Vienna & Lisbon)*
Why Attend TJF
Come and join a team of inspiring people and
outgrow your hidden endowments
TJF is more than a job fair, it is the right place to highlight and promote your brand/company. The event is open for all the professionals who are looking for career growth, discovering great and new ideas, and meeting inspiring people. It is also the ideal event to attend for fresh graduates who want to give wings to their dreams or wish to sharpen their interviewing and company interaction skills.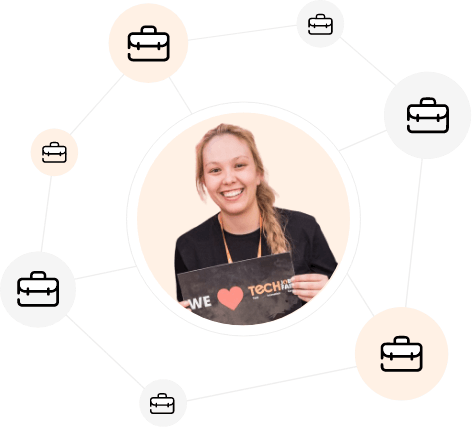 FOR JOB SEEKERS
TJF is the right opportunity to grow your network and build long term relationships with companies. You can learn about HR trends, Bots, AI and Mobile Workers.
Meeting and interacting with recruiters face to face - better than sending a regular email application with resume and motivation letter attached

Unique opportunity to make personal and impactful connections - show your real value as a motivated applicant and make a great first impression

Networking with different corporations - learn about what is going on in the market and interact with a broad selection of companies
FOR COMPANIES
Tech Jobs Fair is the right event to meet thousands of talents with great skills. Here you have the opportunity to hire the best, dedicated and motivated future employees, interns and coworkers
Access to a large number of candidates with diverse backgrounds and skills in a one-stop environment.

Meet candidates in person and establish a connection right away to do a clear and better assessment of their profiles

Increase brand awareness and remember - stay ahead of the game, if you will not be there, your competitors will be!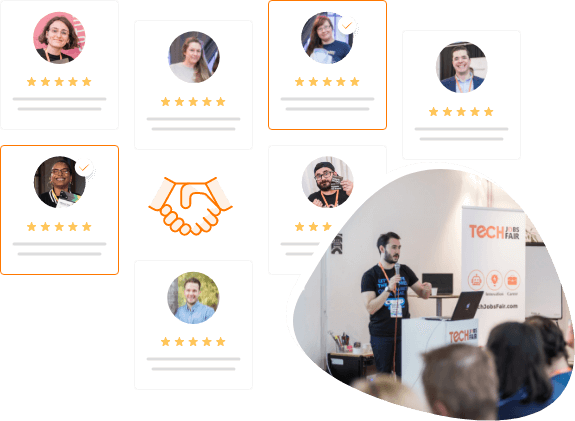 Meet Our Awesome Partners
Be Part of a Growing Recruiting and Branding Event
Want to become a media/community partner?
Contact us
Former Partners
What Our Partners are Saying About Us
The Must Attend Event For
Be a part of Europe's #1 tech festival
Software Developer
UI/UX Designers
Security Specialists
Product Owners
Quality Assurance
Tech Decision Makers
Tech Decision Makers
Software Developer
Quality Assurance
Product Owners
UI/UX Designers