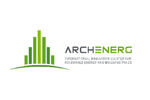 Company Size: 50
6721 Szeged, Vadász utca 5.
Founded: 2007
ArchEnerg was established in 2007 with the aim of creating an economic and social model based on renewable energy sources and energy efficiency that moves green economy enterprises and society towards a more sustainable future. ArchEnerg International Renewable Energy and Building Trade Cluster won the certificate of "Accredited Innovation Cluster" all times.
Today, ArchEnerg Cluster has about 80 members. Our primary task is to support our members participating in the strategic industrial sectors. This includes infrastructure development, lobbying, marketing and generation of interest for their products and services. It also aims to increase public awareness regarding renewable energy and energy efficiency.