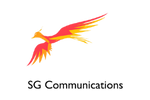 SG Communications – CONNECTING THE MARKETING DOTS FOR AEROSPACE, DEFENSE, HLS, CYBER, AND TECHNOLOGY COMPANIES.
360° B2B2G MARKETING
Assisting clients around the world to turn contingency plans into reality, and leads to paying customers.
Connecting businesses with people to maximize business potential.
Analyze market trends, and create marketing strategies & International PR.
Build practical marketing tools and digital assets on Google, LinkedIn, Facebook, Twitter, Instagram, and YouTube.
Monitor and analyze all digital marketing activities.
Full Stack
From strategy to planning to 360 execution – combining all activities on an ongoing basis.
Our Services
*Strategic Consulting
*International B2B & B2C Marketing
*Content Production
*Video Production
*Business Development
*Investor Relations
*Social Media & Digital Marketing
*International PR
*Conferences, Worldwide exhibitions & Webinars
Why Us
A trustworthy digital-marketing partner with a proven track record of successfully supporting global tech companies.