At Tech Jobs Fair, we hosted several virtual events that are attended by entrepreneurs, technologists, innovators, and talents from across the globe. This year marks Canada Tech Jobs Fair's 2nd edition in Canada and its 21st edition worldwide.
We're enthusiastic about bringing people together, whether it's a virtual event, networking event, panel discussion, or career fair.
It would not have been possible to have such a successful Tech Jobs Fair's 2nd edition without the trust and support of our partners and supporters. Your participation in Canada's Virtual Tech Job Fair made it a memorable experience.
We would like to extend a huge thank you to all our partners and supporters – Sourced Group, techNL, Universe, GoStudent Canada, Calgary Economic Development, IBM Canada Ltd, Wipro Canada Ltd, Mphasis Limited, Arcurve, Harvest Builders, Helcim, Slalom, People Find Inc., Dori Zener and Associates, and Think 360.
Thank you to all our keynote speakers for joining us at Canada's Tech Jobs Fair'22. We are grateful for the time and effort you took to share your thoughts with all the young tech talents, Andrew McEdwards, AJ Robles, Katie Fitzgibbon, Joel Pollard, Liam Flanagan, Nimrit Anand, Pranav Dhar, and Philip Agnello.
We were thrilled to work with the following community and media partners – L-spark, Accelerate Okanagan, Startup Canada, The OneVally, World Skills, FutureThink, Fintech Finance, InnMind, Philip Agnello Creative Consulting, and African Vibes Magazine.
5,000+ Registrations, 2000+ Attendees, 17+ exhibitors, 12+ speakers and 8+ Community, Media, and University Partners. We had a great line up speaker session and booth visits throughout the event.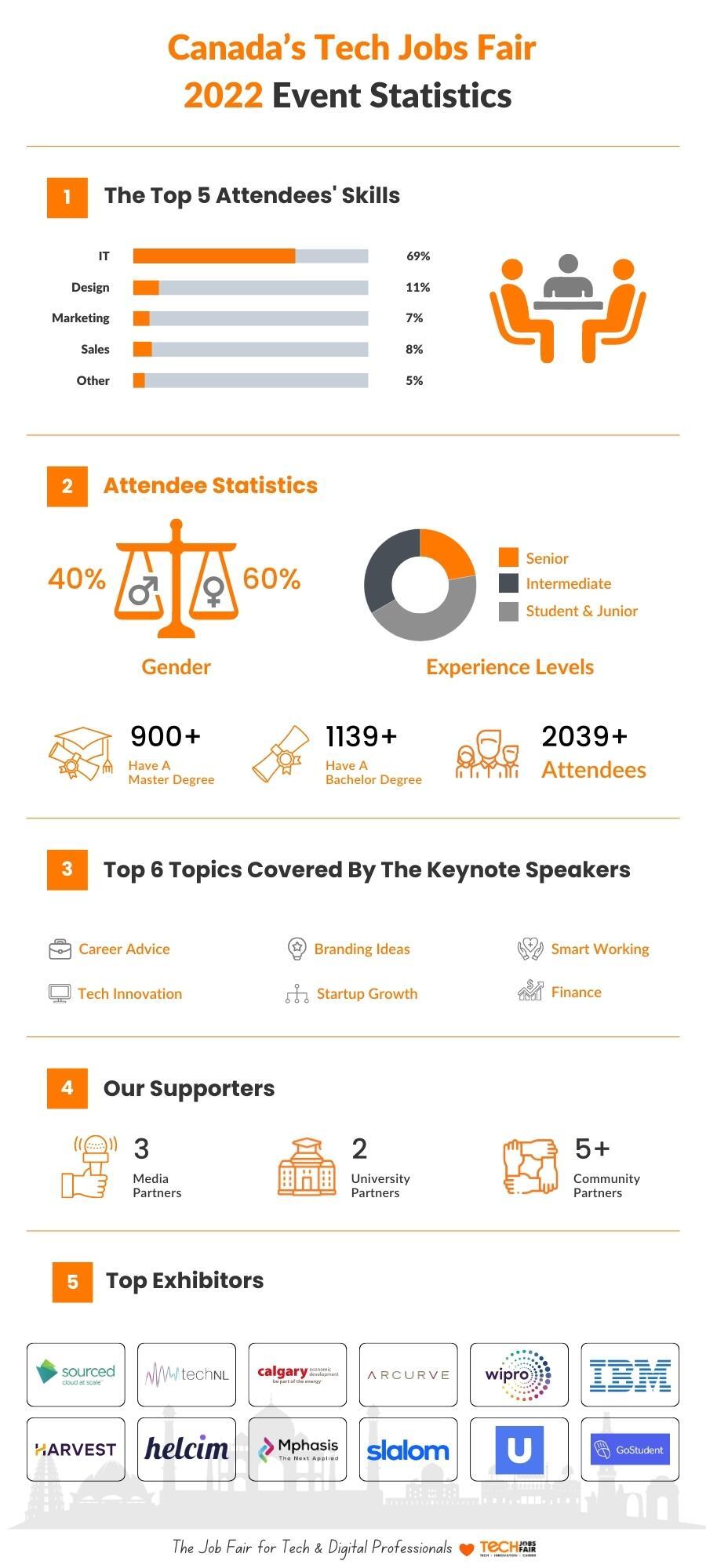 If you've missed the event and would like to join the upcoming event of 2023, then feel free to register from here as an exhibitor or job seeker.
Mark your calendars for 2023!
We look forward to welcoming you next year. See you soon!
Join 20,000+ Subscribers
Get exclusive access to new tips, articles, guides, updates, and more.