At Tech Jobs Fair, we hosted several virtual events that are attended by entrepreneurs, technologists, innovators, and talents from across the globe.
We're enthusiastic about bringing people together, whether it's a virtual event, networking event, panel discussion, or career fair.
About Tech Jobs Fair
TJF is more than a job fair. It is the right place to highlight and promote your brand/company. The event is open to all professionals who are looking for career growth, discovering innovative and creative ideas, and meeting inspiring people. It is also the ideal event to attend for fresh graduates who want to give wings to their dreams or wish to sharpen their interviewing and company interaction skills.
Here's a quick summary of the Tech Jobs Fair in Spain.
If you missed this year's Spain's Virtual Tech Jobs Fair on 27th Oct 2022, you could have a look at what it was like below.
The exhibitor partners listed below participated at Spain's Virtual Tech Jobs Fair 22.
Derivco, Work in Lithuania, Servizurich, EDP Renewables, Mokens League, WP Event Manager.
Thank you to all our keynote speakers for joining us at Spain's Tech Jobs Fair'22. We are grateful for the time and effort you took to share your thoughts and experiences with all the young tech talents.
Karolina Zelbienė, Niels Berglund, Alexandra Romero Pallares, Hanna Pozdniakova, Juliana Rabbi, Jacob Shekrel, Arnau Beramendi Higueras, Leonardo Reyes, and Marina Morrissey.
It was our pleasure to share with you that there were 12+ speakers, 7+ exhibitor partners, and 500+ talents at this event.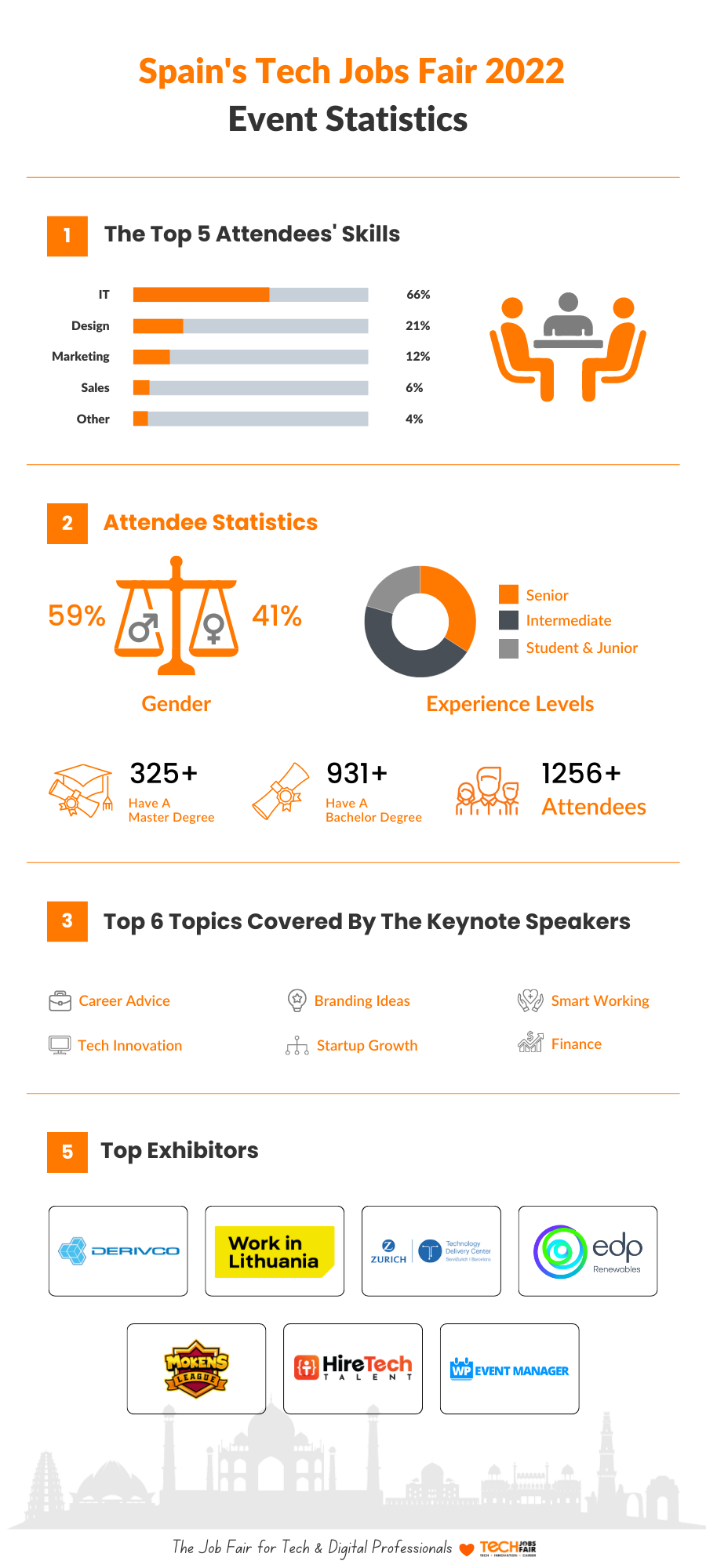 If you've missed the event and would like to join the upcoming event of 2023, then feel free to register from here as an exhibitor or job seeker.
Join 20,000+ Subscribers
Get exclusive access to new tips, articles, guides, updates, and more.