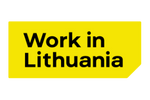 Company Size: -
Upes st. 23, 08128 Vilnius, Lithuania
Work in Lithuania is an initiative dedicated to encouraging highly-skilled professionals living abroad to build their careers in Lithuania.
Work in Lithuania connects talents from abroad with the best opportunities in Lithuania.
We act as a link between people looking to land their dream job and international companies keen to hire specialists from abroad. Our platform lists many exciting opportunities that are open to skilled professionals from all around the world. Not only that, we offer guidance when it comes to relocating and settling in Lithuania.