How do job fairs work?
The objective of a job fair is to provide potential employees with an opportunity to meet with multiple recruiters, hiring managers, and employers at one convenient location.
By taking part in these events, many firms may reduce the time and effort they spend on recruitment. At a job fair, you may even participate in interviews with reputable companies.
Attending a job fair has many benefits, but what are they?
Job fairs are advantageous for both companies and job seekers. Candidates get the opportunity to speak with recruiters and exchange vital information during job fairs. Candidates can gain some of the following advantages from going to a job fair:
You might be able to find an internship or a future full-time job here.
Employers can meet with you directly.
By networking with other professionals, you can improve your professional network.
Many companies will be at the event to answer your questions immediately.
What is the process of a job fair?
Job fairs are opportunities when you may learn about jobs you did not realize were available. You can acquire the knowledge and abilities required for particular roles at the event. Additionally, employers may discover more about your qualifications and determine how well you would fit in with their company. Job fairs are a popular place for human resources departments to identify potential new employees.
Job fairs might consist of a lot or few people. Organizers set up booths for different companies at one neutral location. While applicants move from booth to booth to connect with employers or recruiters remain at their own booths. Many companies set up their own booths to hire people. Candidates can ask the recruiters questions about the organization's culture and the application procedure while the event is still going on. At several job fairs, candidates may have on-the-spot interviews and get hired right away.
Why Tech Jobs Fair is the best place to attend a job fair
Tech Jobs Fair is the place to be if you're recruiting or searching for a job! The recruitment speed dating event! Come to network, meet employers, and ask questions.
Participation is welcomed from students, college grads, alumni, and job seekers interested in careers in sales, marketing, or technology.
The Tech Jobs Fair encourages students and job seekers to register for a free ticket.
Do you need help finding a job that makes you happy?
Join us at the Tech Job Fair! So, enhance your Resume and be ready for interviews with companies that are currently recruiting. It is advised for job seekers to dress professionally and bring their resumes.
As an exhibitor, all HR professionals and talent acquisition specialists are welcome to participate
It is an opportunity for job searchers to speak with recruiting employers in person. Here's your chance to switch up your approach and engage in some networking if you're tired of sending out your resumes online without the opportunity to provide a lasting first impression.
During the event, job seekers will have the chance to network with leading firms and do a number of speed interviews with hiring managers.
You can find out more about the open positions at the top companies by visiting- https://techjobwall.com/
Job fairs offer employers the following benefits-
You'll have access to a large pool of talent
Meet outstanding candidates
Boost brand awareness
Job Fairs for employers are cost-effective
Expand your network of recruiters
Become an exhibitor
Make new contacts, hire tech talents, collect feedback, and generate new leads by taking advantage of networking opportunities.
Our Awesome Partners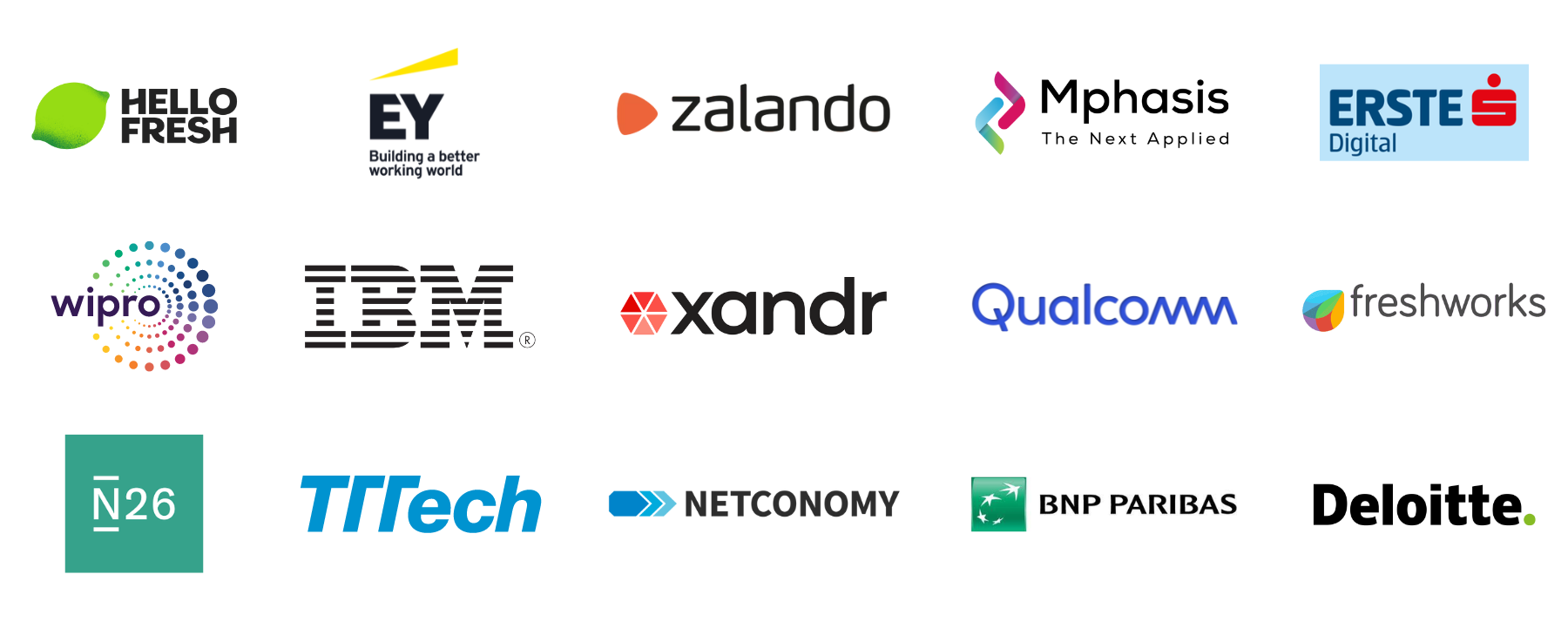 Job Fairs in Europe
Denmark's Virtual Tech Jobs Fair – 15th Sept 2022, 13:00 to 19:00 (CEST)- This event will consist of more than 2000 attendees and 20+ exhibitors. It is a great opportunity to find or change to a new job, learn from the best experts in the IT & Digital industry, and network with your peers.
Spain's Virtual Tech Jobs Fair – 27th Oct 2022 13:00 to 19:00 (CEST)- Here's a brief overview of what happened during Spain's Virtual Tech Jobs Fair in 2021. There were almost 400+ people in attendance, as well as 6 community partners, 3 media partners, and 3 university partners. Some of the biggest exhibitors, like Sicpa, Amaris, Pursuit Marketing, Edp renewables, Zalando, Neotalent España, and others, also joined us.
UK's Virtual Tech Jobs Fair – 29th Nov 2022 13:00 to 19:00 (GMT +1)- Glimpse of the UK's Virtual Tech Jobs Fair held in 2021. The event consisted of some top exhibitors like We Got, Qureca, Fulcrum Digital, Flexjet Europe, Neural Networking, MoShoppa, and many more. Also 1300+ attendees, 10 community partners, 4 university partners, and 5 media partners.
Netherlands' Virtual Tech Jobs Fair – 30th Nov 2022 13:00 to 19:00 (CEST)- a quick rundown of the 2021 Netherlands Virtual Tech Jobs Fair. There were almost 800+ people in attendance, as well as nine community partners, four media partners, and three university partners. Quebec, Tranzer, Kaizo, Impala Studios, Geria, Travix, and others were among the major exhibitors.
France's Virtual Tech Jobs Fair – 1st Dec 2022, 13:00 to 19:00 (CEST)- here is an overview of the 2021 France's Virtual Tech Jobs Fair which included top companies such as the Québec Immigration Office, Neo Financial, Sipios, and many more.
Lisbon's Tech Jobs Fair – 29th Sept 2022, 14:00 to 19:00 (GMT +1)- TJF Lisbon'21 had over 22 community partners, 5 university partners, 4 media partners, and prominent exhibitors which included Neotalent, Tangivel, Natixis, Deeploy.me, Mindera, and others. We'd like to express our gratitude to everyone who contributed to the success of this event.
Budapest's Tech Jobs Fair – 3rd Nov 2022 14:00 to 19:00 CEST (GMT+2)- This event is more than a job fair, it is the right place to highlight and promote your brand/company. The event is open to all the professionals who are looking for career growth, discovering great and new ideas, and meeting inspiring people.
Berlin's Tech Jobs Fair – 10th Nov 2022, 14:00 to 19:00 (CEST)- A total of over 3000 attendees and 25+ exhibitors will attend this event. It's a great chance to meet and interact with recruiters in person.
Zurich's Tech Jobs Fair – 23rd Nov 2022, 14:00 to 19:00 (CEST)- Unique opportunity to make personal and impactful connections and have access to a large number of candidates. This event will be participated by 3000+ attendees and 25+ companies, don't miss it out.
Job Fair in the Middle East
Israel's Virtual Tech Jobs Fair – 14th Sept 2022 14:00 to 19:00 (GMT +3)- In 2021 we had over 1800 attendees, eight community partners, three universities, and media partners, as well as major exhibitors such as Storemaven, Masterschool, Lev Haolam, ebzoly, JobMob, ESN, and others.
Are you excited to attend the job fairs? What are you waiting for? Hurry up and register through our website.
Join 20,000+ Subscribers
Get exclusive access to new tips, articles, guides, updates, and more.