We are pleased to announce that Tech Job Fairs has achieved another milestone and has been named as the TECH EVENT OF THE YEAR 2021 at German Business Awards 2021.
What are the German Business Awards?
Organized by EU business, the German Business Awards are one of the most prestigious awards and we are honored to receive them consecutively in two years. These awards reward the companies that are determined to foster innovation and competition in their industries. They ensure that the most deserving enterprises are given the opportunity to shine. Simply being nominated for German Business awards can have a tremendous influence on employee morale and consumer engagement. To win these awards, the nominated company must exhibit considerable expertise and skills, a commitment to customer service and client happiness, as well as an ongoing commitment to quality and innovation.
The German Business Awards are decided solely based on merit, not the number of votes cast. Their in-house research team carefully examines the information available online and in the public domain, as well as any information provided by nominees, to pick deserving winners. Nominees are also given the chance to produce a briefcase file that includes information about their chosen business sector and profession, as well as any previous awards received.
The EU Business awards take pride in the credibility of their awards. They scrutinize every aspect of a company's or individual's performance over the previous 12 months to guarantee that only the most worthy individuals or businesses receive one of their distinguished awards. The German Business Awards honor Germany's dedicated individuals and businesses for their industry innovation and excellence.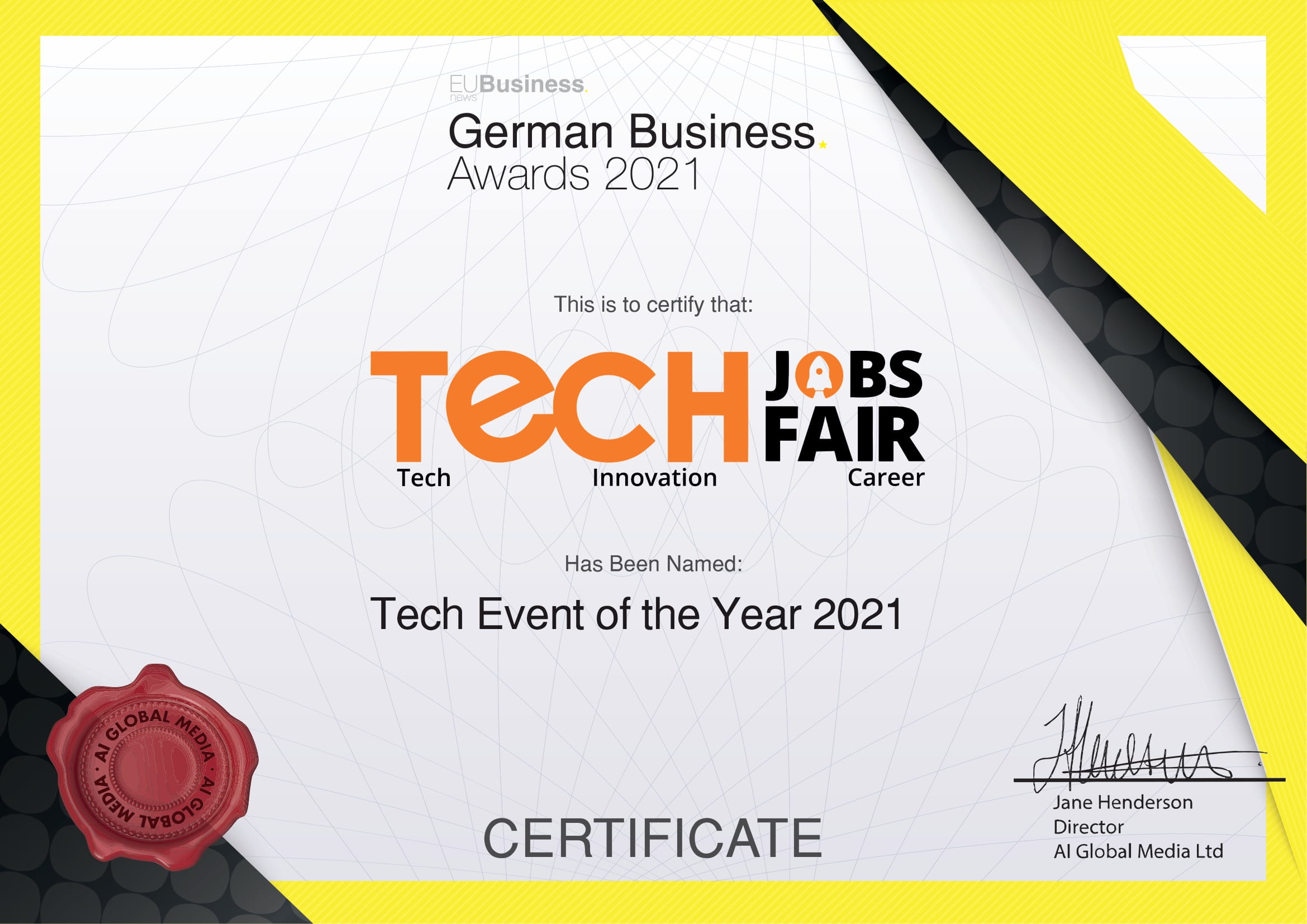 Which Award was given to TJF?
The German Business Awards provide a number of awards each year, but the category for which TJF has won is TECH EVENT OF THE YEAR 2021. This award is given to any platform or business that arranges the best Tech Events providing digital employment opportunities for job seekers and recruiters while also raising brand exposure.
Companies that use current and advanced technology to arrange Job fairs that assist people in finding work and expanding their network circles are the ones that win these awards. The esteemed recipient of this important prize this year was Tech Job Fairs. By using cutting-edge technology they were able to pull off the best events even during COVID-19.
Our virtual job fairs received this praise and appreciation since they removed key constraints such as the number of individuals who could be accommodated, the requirement of physical presence, and other expenditures associated with putting things together.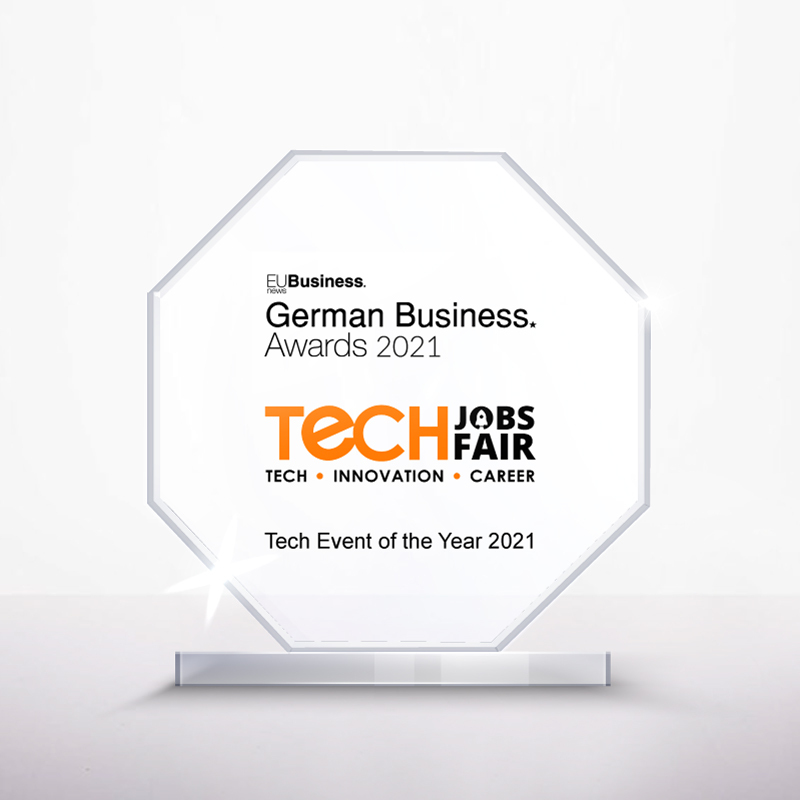 Why does TJF deserve the Tech Event of the Year Award 2021 award?
Tech Jobs Fairs arrange the best job fairs where job seekers communicate with the best recruiters to find the desired job. It is an excellent opportunity to expand your network, learn from the greatest specialists in the IT and Digital industries, and form long-term business ties. It is an excellent platform for career opportunists that are looking for ways to give their dream wings. The event is accessible to all professionals interested in advancing their careers.
TJF's goal has always been to use the platform to boost brand visibility. TJF aspires to be a vision where people gather to display their brands and enterprises, in addition to providing a high-quality platform for job searchers from significant corporations. Through TJF, Jobs Seekers were able to interact with recruiters from well-known companies, demonstrating their worth and getting high-level positions. TJF elevated digital employment and networking by developing a platform that allowed nearly anyone to come and advertise their company. Their goal is to develop a genuine process that emphasizes and concentrates on the value that everyone can provide.
TJF deserved and received the award of TECH EVENT OF THE YEAR 2021 at the German Business Awards because of the outstanding platform we have created via which recruiters and job seekers from small to large companies can both communicate and establish good business ties.
We are proud that our progress and accomplishments are recognized over the years.
We have accomplished another achievement in the year 2020 and it is an honor being referred to here as "Best Technology and Digital Employment Opportunities and Networking Event 2020", which was given to Tech Jobs Fair last year at the German Business Awards.
As the name recommends, its grant is about the high-level utilization of current technology in intersection with advanced work and expanding organizations of people and organizations. Many awards are declared at the German Business Awards 2020 yearly, however, the honor that Tech Jobs Fair procured was the "Best Technology and Digital Employment Opportunities and Networking Event 2020".
Join 20,000+ Subscribers
Get exclusive access to new tips, articles, guides, updates, and more.