Exciting NEWS! Tech Jobs Fair Got The German Business Award 2020 for Best Technology and Digital Employment Opportunities & Networking Event
We have excellent news at Tech Jobs Fair that just came in and got us all excited. We are pleased to announce that TechJobsFair was just awarded the Best Technology and Digital Employment Opportunities and Networking Event 2020 at the German Business Awards 2020 organized by EU Business News.
What is the award?
The German Business Awards is a prestigious event that takes year every year rewarding the most hardworking individuals alongside the most successful companies that have managed to break ground using their innovation and excellence in their relevant fields as well as overall.
The awards arranged by German Business Awards are fair and rewarding. They ensure that they take everything into accounts, such as the performance of the company or the individual in question, the way the entity operates, and the overall performance over the period of time that is taken into account. It's a tough reward that is given to companies and individuals that gave it their all to take things to the next level.
Taking part in the German Business Awards is a way to show everyone that you value your employees and show your success to the general public. It's a great platform that brings out a great way to increase recognition and brand awareness.
The award in question here is "Best Technology and Digital Employment Opportunities and Networking Event 2020", which was given to Tech Jobs Fair this year at German Business Awards arranged by. As the name suggests, this award is about the advanced use of modern technology in junction with digital employment and increasing networks of individuals and companies.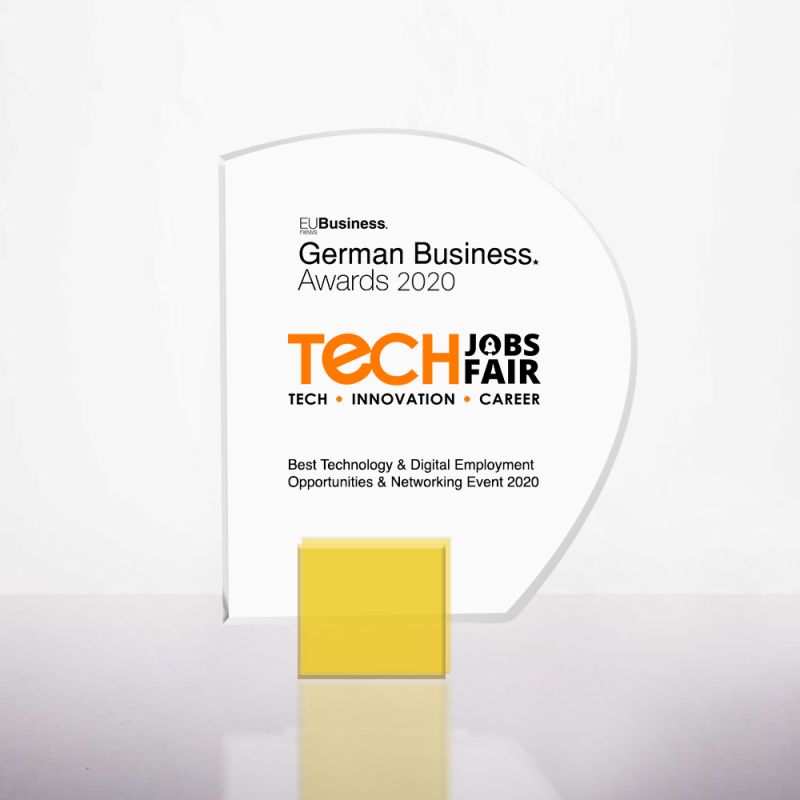 Who is it given to?
Many awards are announced at the German Business Awards 2020 annually, but the award that Tech Jobs Fair earned was the "Best Technology and Digital Employment Opportunities and Networking Event 2020".
This award is given to any organization or platform that provides people with Digital Employment Opportunities and increasing awareness for their brands. Making the right use of modern and advanced technology, companies that create setups that help people in getting employed and increasing their networking circles are the ones that win the award. This year, TechJobsFair was the esteemed winner of this prestigious award.
Why TJF got the award?
As it's already said above, why and who is this award given to, Tech Jobs Fair got this award at the German Business Awards arranged by EUBusiness News, because of the excellent platform they have created through which recruiters from small to large companies and job seekers can both interact.
It goes both ways, and TechJobsFair makes it incredibly easy for both parties to obtain what they are seeking. It also helps recruiters build their networks using the platform, which this year took place virtually to ensure that there were no limitations on the people involved.
Jobs Seeker got the opportunity to connect with recruiters from recognized companies proving their mettle and obtaining high-level jobs. By creating the platform that allowed virtually everyone to come and promote their brand, TJF took digital employment and networking to another level.
Ideas, skills, and inspiration were in abundance at the display at TJF, and that's why TJF got the German Business Award for being so good at what it is supposed to do.
TJF's mission and vision
The mission at TJF is to ensure that every job seeker and recruiter has the platform and time to look for the best solutions in their respective departments. The Job Seekers must get the opportunities they are looking for while the recruiters must get the candidates they are searching for. It's a two-way road, and TJF aims to connect that road using technologically advanced and effective solutions.
The vision at TJF has always been to increase brand visibility using the platform. Alongside giving a high-quality platform to job seekers and recruiters from major companies, TJF aims to see itself as a vision where people come to highlight their brands and their businesses.
What Tech Jobs Fair does?
German Business Award winner TJF is a company that offers three different solutions for concerned individuals or organizations. It connects three different entities using modern technologies and promotes digital employment.
Job seekers who are looking for good opportunities.
Recruiters who are looking to hire excellent candidates for their companies.
People who want to increase their brand value by highlighting their businesses.
The idea behind TJF is to create a genuine process that focuses on and emphasizes the value that anyone can bring. At TechJobsFair, it is essential to bring value. The value can be in any form. Job Seekers can bring value through their skills and expertise. Recruiters can bring value by bringing that hiring power. And brand managers/owners can bring value by bringing their businesses and solutions to present in front of everyone and gain awareness.
It doesn't matter whether you are a fresh graduate or an inexperienced recruiter, or a new business owner, TJF will help you by introducing you to new and fantastic opportunities. TechJobsFair will help you in growing your network and getting you your dream job or audience, for that matter.
Because of the coronavirus pandemic, TJF shifted into a virtual platform by deploying the use of modern technologies. The virtual event was met with incredible success. It was well-received by everyone. It led to great advantage because it removed significant limitations such as the capacity for people, the requirement of physical presence, and other costs that went into arranging everything.
An exceptional experience, worth every second.
Join 20,000+ Subscribers
Get exclusive access to new tips, articles, guides, updates, and more.