Tech Jobs Fair started its debut edition in Berlin in 2017 with a great spotlight on the IT and Digital areas. TJF coordinates the best virtual job fairs where job seekers speak with the best scouts to secure the ideal position. It is a phenomenal stage for career go-getters that are searching for ways of giving their fantasy wings. In 2019, it established itself in three European commercial hubs: Zurich, Lisbon, and Vienna.
TJF has risen in leaps and bounds and has a core staff in Berlin that works on event-based engagements with local professionals in several places for job fairs. TJF aspires to be a vision where people gather to display their brands and enterprises, in addition to providing a high-quality platform for job searchers from significant corporations. Their event is accessible to all professionals interested in advancing their careers.
Covid-19 has evidently placed a wrench in the recruiting process for both job seekers and recruiters. It has spread through the world which made many job seekers move virtually to get themselves a good line of work.
Tech Jobs Fair has coordinated virtual job fairs in 12 nations where job seekers are given one-in-a-lifetime amazing chances to find or change jobs, gain from the best experts in the IT and Digital ventures, and interface with their peers.
Tech Jobs Fair Helping Professionals Across the Globe
Tech Jobs fair has written a post on "10 Ways to introduce yourself professionally and casually" to help job seekers prepare a beautiful introduction that explains who they are and what they want to achieve. Job seekers frequently find themselves in situations where they have to abruptly introduce themselves in professional or social events. To make a lasting impression on everyone, the Tech Jobs fair has given suggestions and strategies to effectively introduce yourself in any setting.
Even during the pandemic, in 2021, more than 150 top companies across the world exhibited and communicated with potential employees through Tech Jobs Fair.
Virtual booths were used by all exhibitors to host live seminars and video content. This was done so that job candidates can obtain a good idea of firms and their whole experience. Each exhibitor scored an average of more than 50 qualified leads. The participating companies experienced a significant return on investment as a result of this.

All you need to know about Hire Tech Talent
Hire Tech Talent is the most popular top tech talent platform that connects tech hiring companies with experienced and skilled talent across the world. On Hire Tech Talent, 500+ top tech companies are actively hiring Software Developers, DevOps specialists Engineers, and Engineering Leaders.
Hire Data Scientists, Data Engineers, and Machine Learning Engineers in Europe that match your requirements! The benefit of using HTT is you can create a one-time Tech Profile on our platform which enables you to access multiple events at once and get a chance to be employed in 13 countries without losing your time by applying for a hundred different job offers our exhibitors will hire you.
Top-Class Media, community and University Partners
Tech Jobs Fair has partnered with more than 180 media, community, and university partners to give its visitors the best experience in the world.

Thousands of Attendees, Endless Opportunities
More than 30 thousand attendees participated in Tech Jobs Fair
Through the Tech Jobs Fair, more than 30 thousand job seekers were able to communicate with the job recruiters of leading companies. Job seekers were able to interact with recruiters from well-known companies, demonstrate their worth, and get high-level positions. TJF elevated digital employment and networking by developing a platform that allows nearly anyone to come and advertise their company.
Keynote Speakers Helped Many
Informative talks and discussions were held with keynote speakers
In the job fairs organized by Tech Jobs Fair numerous panel discussions, talks and presentations were held between various companies. The Keynote Speakers at Tech Jobs Fair shared their experiences with all guests and provided job seekers with relevant professional, technological, and innovative advice.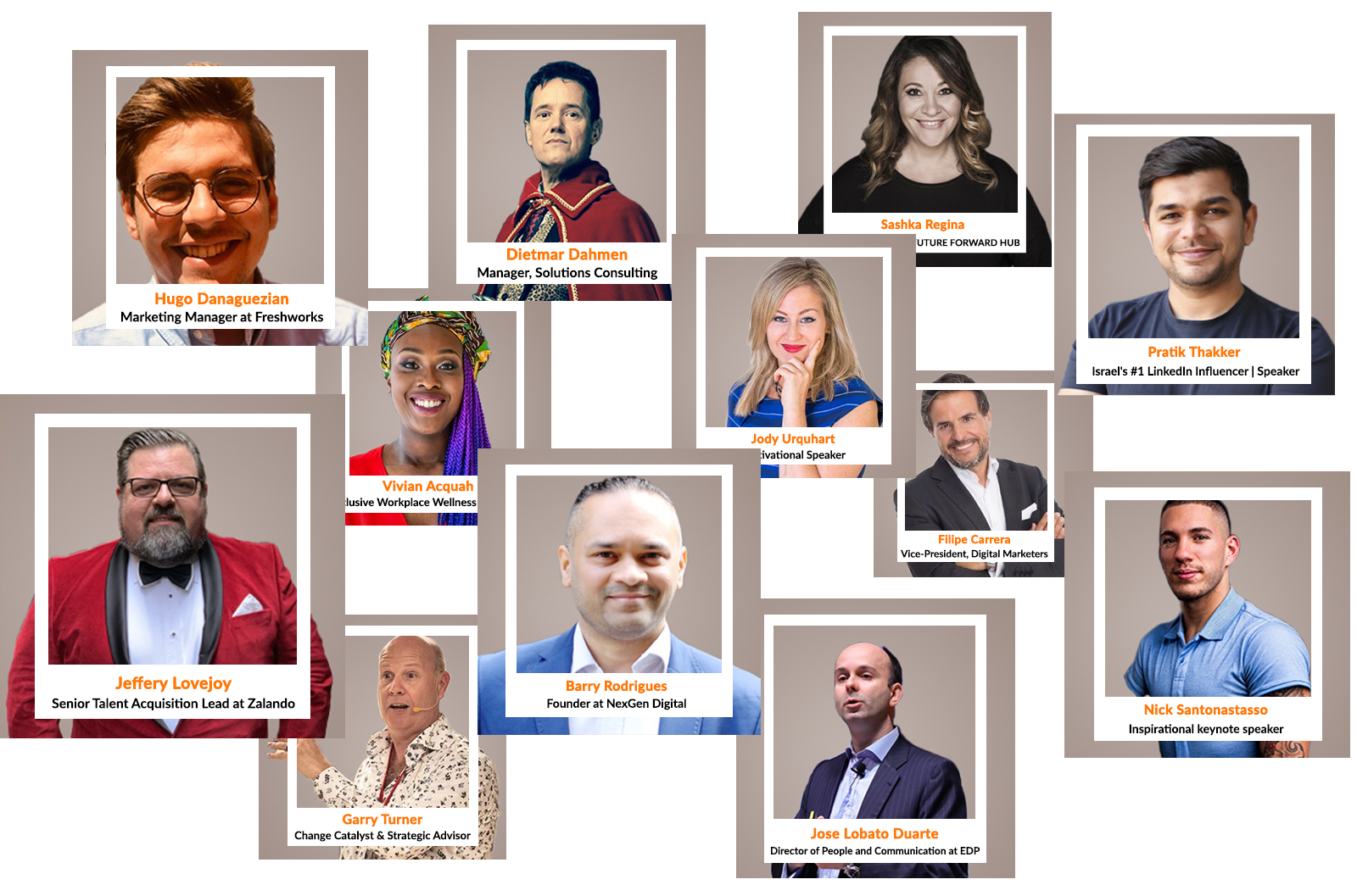 Here is a glimpse TJF 2021 events:
The Best Tech Event of The Year 2021!
Tech Jobs Fair has been named TECH EVENT OF THE YEAR 2021 at the German Business Awards 2021. TJF deserved and received this award because of the outstanding platform they have created via which recruiters and job seekers from small to large companies can both communicate and establish good business ties.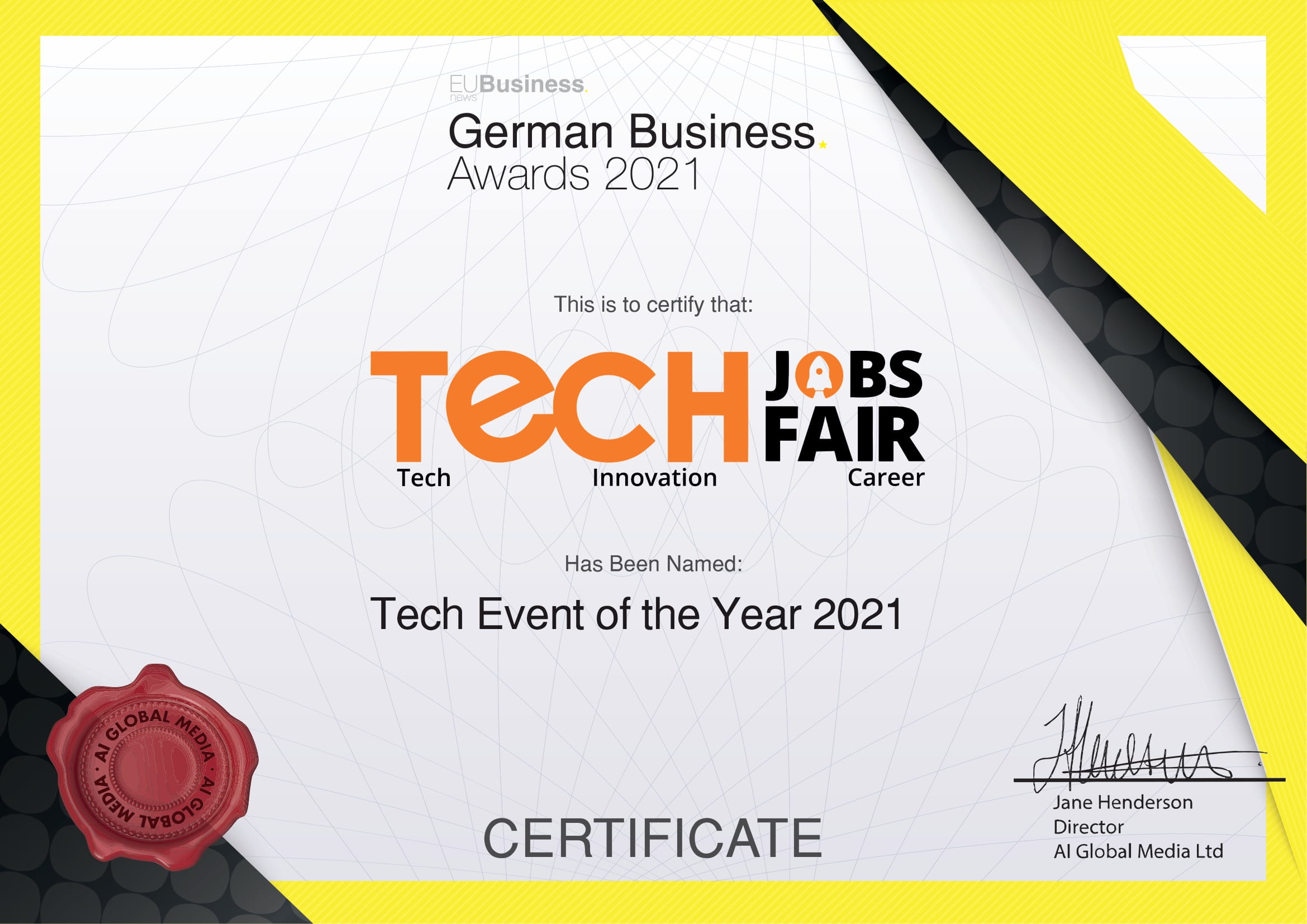 We presented more than 500 Companies, 300+ Media, Community & University Partners & 45k+ attendees across 12 countries. By using cutting-edge technology, they were able to pull off the best events even during COVID-19. The virtual job fairs organized by Tech Jobs Fair received this praise and appreciation since they removed key constraints such as the number of individuals who could be accommodated, the requirement of physical presence, and other expenditures associated with putting things together.
Thank You for All the Appreciation and Support!
Our Plan for 2022
Tech Jobs Fair has seen leaps and bounds of success in the year 2021. Our plan for 2022 is to conduct a combination of both physical and virtual events which is expanded to 15 countries namely Vienna, Canada, India, Israel, Denmark, Lisbon, Netherlands, United Kingdom, Spain, Berlin, Zurich, France, Ireland, Sweden, and the USA.
Join 20,000+ Subscribers
Get exclusive access to new tips, articles, guides, updates, and more.