TJF-Tech Jobs Fair Vienna is coming soon on November 26th and it has some new media and community partners on board this year. Austria Innovative, Metropole or Der Standard are some of the magazines that are partnering in TJF's second edition in the Austrian capital. The Base, WeXelerate and Wild Code School are among our community partners.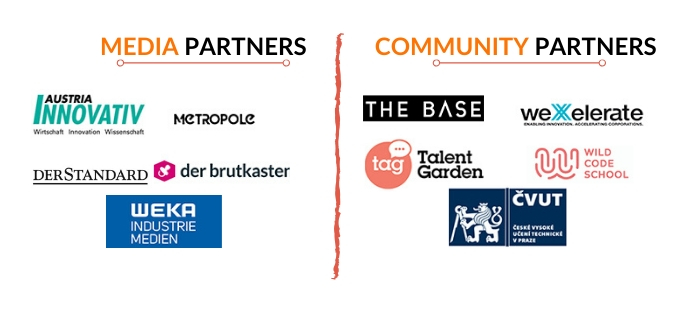 MEDIA PARTNERS
Austria Innovativ
Austria Innovativ, Austria's major magazine for business, innovation and research. has been reporting on domestic research results from all scientific disciplines for 25 years. In addition to the proven specialist information for the research scene, the magazine strives to show how much innovative power there is in Austria and how companies can profit from the numerous research results in the best possible way.
Metropole
Founded in October 2015, Metropole is created by Home Town Media, an independent publisher, serving internationals in Vienna and Austria and producing content for the English-language needs of companies throughout the DACH (German-speaking) region. Metropole gives readers information about everything the city has to offer – both for their career and social life. Every issue spotlights one topic, examining it from different angles and giving contemporary local insight. From background on current news, insights into arts and culture to profiles of local personalities, the magazine helps its readers become part of Viennese society while celebrating their cosmopolitan roots.
Factory
Factory is made exclusively for the manufacturing industry. Ten times a year the magazine is dedicated to the latest topics by and for Austrian technicians. Published since 2002, it is an independent publication and it does what many other trade magazines are no longer able to do: it offers journalistic excitement, objective service for readers and a completely new approach to established topics.
Making technology exciting: FACTORY is an Austrian magazine that is exclusively intended for the manufacturing industry. The magazine is published ten times per year and is dedicated to cutting-edge topics from and for technicians. FACTORY remains independent of the interests of manufacturers and succeeds where other specialized magazines fall short: it offers journalistically exciting content, objective service for readers and a completely new approach to established topics.
Der Standard
A daily newspaper published in Vienna, Der Standard was founded by Oscar Bronner as a financial newspaper and it's first edition was published on 19 October 1988. It is considered a socially liberal newspaper and it is one of the most important – and most read – in the country. derStandard.at has existed since February 1995 and claims this was the first appearance of a German-language newspaper on the web.
Der Brutkasten
A multimedia platform for startups, the digital economy and innovation made by entrepreneurs for entrepreneurs. Der Brutkasten focuses both on the startups and the context in which they operate as well as entrepreneurship, the digital and innovative economy and technology. Der Brutkasten aims at offering the vibrant Austrian startup scene a comprehensive platform with a journalistic core and to shape it in a constant exchange with it.
COMMUNITY PARTNERS
The Base
The Base Margareten is a co-working space located in Margaretenstraße, a young and trendy district of Vienna. It also offers private offices, comfortable lounges, a gym and an event zone for networking events or product launches. The high rooms of The Base were designed with the support of the Austrian artists Martin Tardy and Julian Epok and combine contemporary works of art with modern interior design and high-quality office equipment by BENE.
WeXelerate
WeXelerate supports renowned corporations in enhancing innovation initiatives and digital transformation. It engages in long-term relationships enabling open and continuous exchange with our broad and diverse innovation ecosystem. Their hub offers a stage for the most promising tech startups from all over the world and they also host inspiring events and showcase the latest trends by inviting international experts and industry leaders.
Talent Garden
Talent Garden is a coworking space for the digital and tech community. Founded in 2011 in Brescia, Italy, it is a leading European coworking network and educational institute for the digital and tech community. It hosts a community of over 4,500 innovators inside the network of campuses, which are a base for ideas and collaborations to thrive, hosting a community of startups, agencies, corporate labs, freelancers, investors, media companies and students, who are all united by a like-minded vision for digital innovation.
Wild Code School
Wild Code School is a European network of schools offering a 5-month or 10-month training program to learning-demand coding skills through a blended learning approach. The school trains digital professionals able to adapt to the changing work situations and environments.
CVUT – Czech Technical University in Prague
CVUT – Czech Technical University is one of the largest universities in the Czech Republic and one of the oldest institutes of technology in Central Europe.
It currently has eight faculties – Civil Engineering, Mechanical Engineering, Electrical Engineering, Nuclear Science and Physical Engineering, Architecture, Transportation Sciences, Biomedical Engineering, Information Technology – and counts more than 18,000 students.
Join 20,000+ Subscribers
Get exclusive access to new tips, articles, guides, updates, and more.