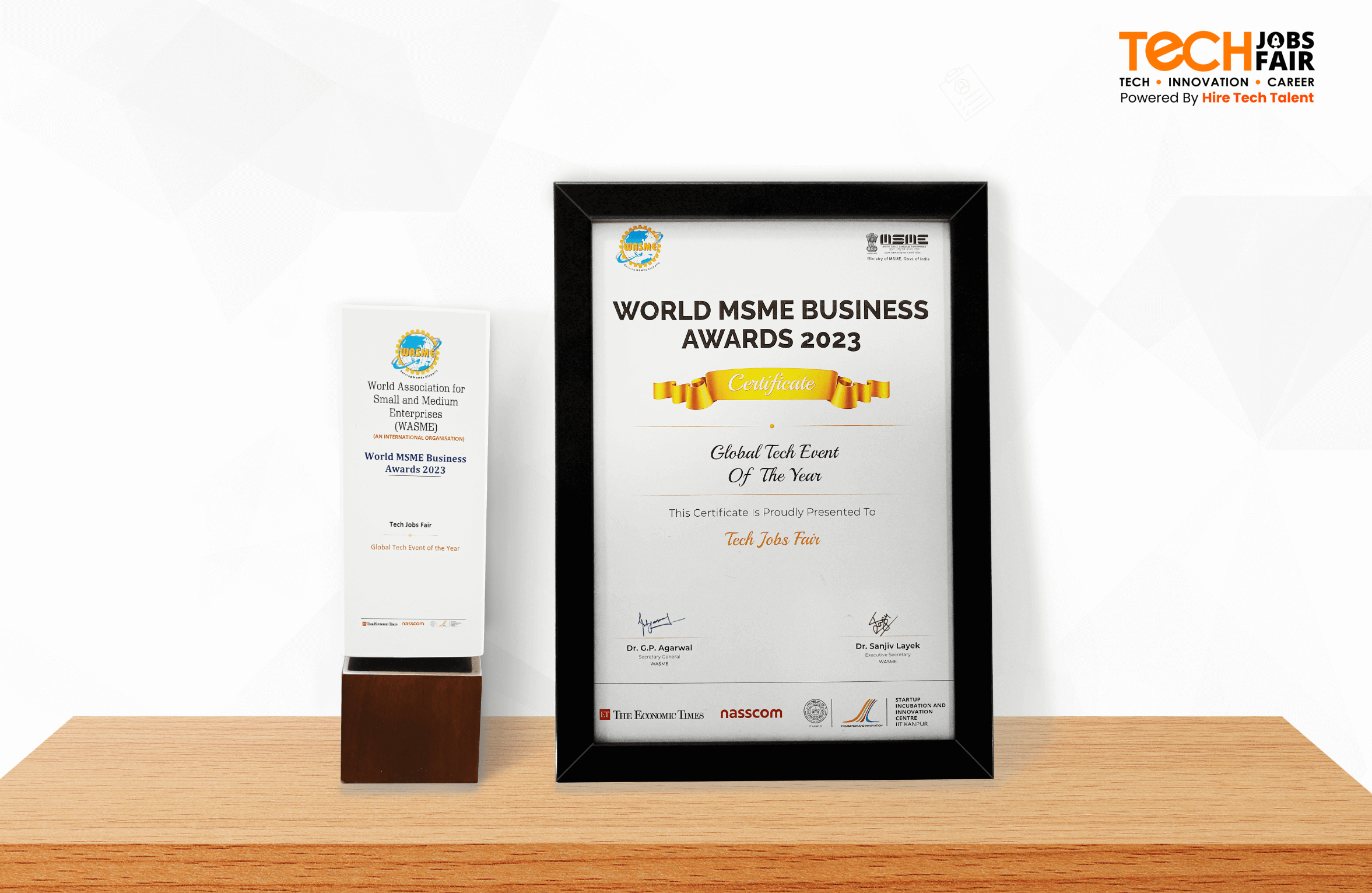 In a prestigious ceremony at the World MSME Business Summit 2023, Tech Jobs Fair was recognized and celebrated under the distinguished category of Global Tech Event of the Year. The event was graced by eminent personalities from various sectors, adding to the grandeur of the occasion.
The World Association for Small and Medium Enterprises (WASME) recently hosted the prestigious World MSME Business Summit 2023, bringing together global leaders, visionaries, and innovators.
The summit was hosted in the auditorium of the Scope Convention Centre, Lodhi Road, New Delhi, with the topic "Empowering MSMEs: Navigating Opportunities, Overcoming Challenges, and Celebrating Success." It served as an important forum for the exchange of ideas, the study of policy changes, and the acknowledgment of excellence in the MSME sector.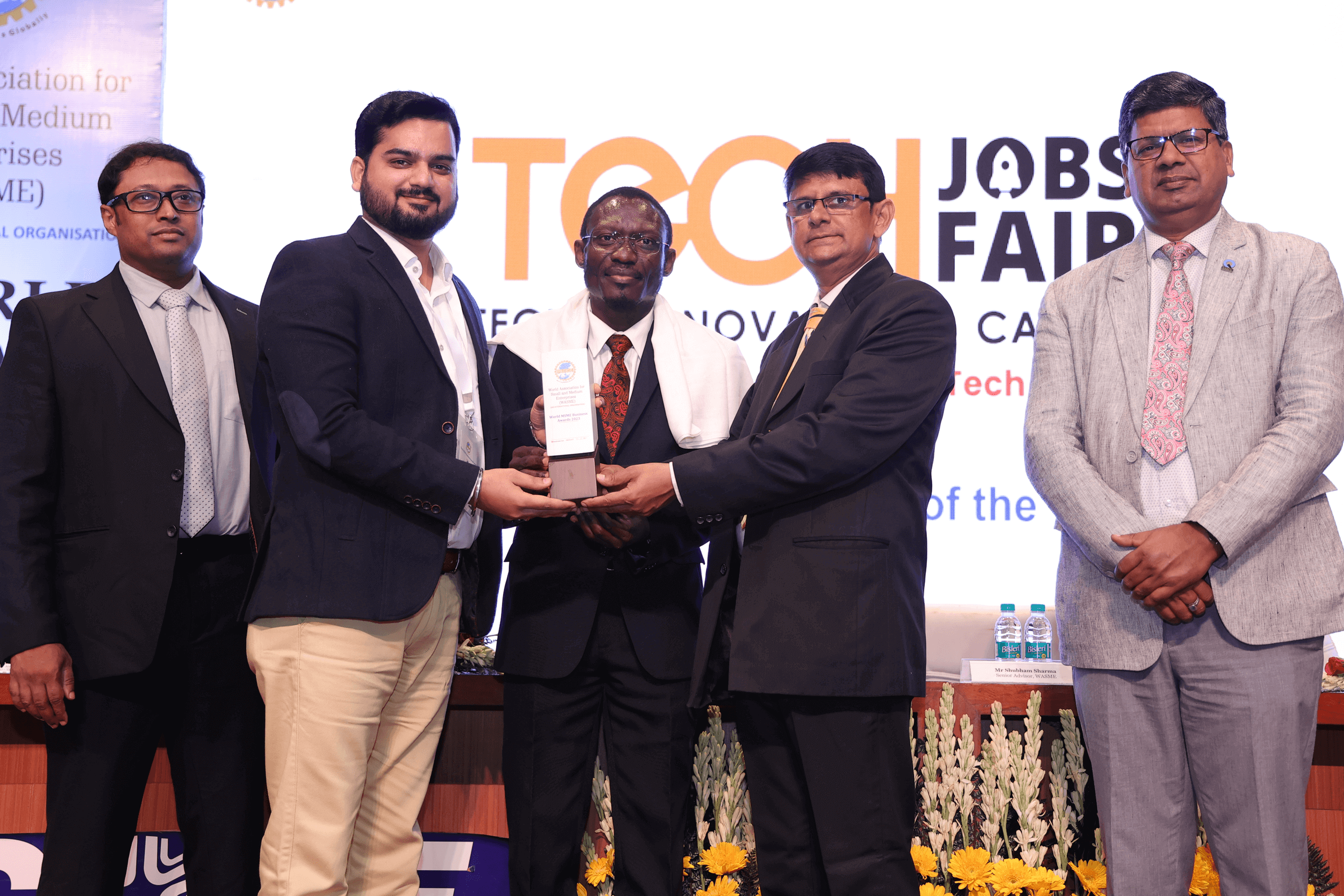 Awardees at the Prestigious Event
A moment of honor as we recognize the notable awardees: Katharina Wieser, Ambassador, Embassy of Austria; Claudio Ansorena Montero, Ambassador, Embassy of the Republic of Costa Rica; Jacqueline MUKANGIRA, High Commissioner, Republic of Rwanda; Yasiel Burillo, Ambassador and Consul General, Embassy of Panama; Demeke Atnafu Ambulo, Ambassador, Embassy of the Federal Democratic Republic of Ethiopia; Dillah Lucienne, Ambassador, Embassy of Chad; Lalatiana Accouche, High Commissioner, Embassy of Seychelles; Joséphine Patricia Ntyam-ehya, Chargé d'Affairs a.i, Embassy of Gabon; Yawo Edem AKPEMADO, Chargé d'affaires, Embassy of the Togolese Republic; Deliwe Mumbi, Acting High Commissioner, Zambia High Commission; and Alejandro Simancas Marin, Ambassador, Embassy of the Republic of Cuba.
Tech Jobs Fair was presented the award by Mr. Rajesh Maheshwari, the CEO of NABCB, Quality Council of India, DPIIT, Ministry of Commerce, Government of India, H.E. Mr. Yawo Edem AKPEMADO, Chargé d'affaires at the Embassy of the Togolese Republic, Dr. Sanjiv Layek, Executive Secretary of WASME, and Mr. Rony Banerjee, Advisor at EY.
About WASME
WASME is the only international NGO that enjoys consultative/ observer status with many UN agencies such as ECOSOC, UNCTAD, ITC, WIPO, UNIDO, UNESCO, UNICITRAL, UNESCAP and ILO, several intergovernmental and international organizations like WCO, OECD, ICSB, APEC, APCTT, etc. to promote and support SMEs around the world for over 40 years.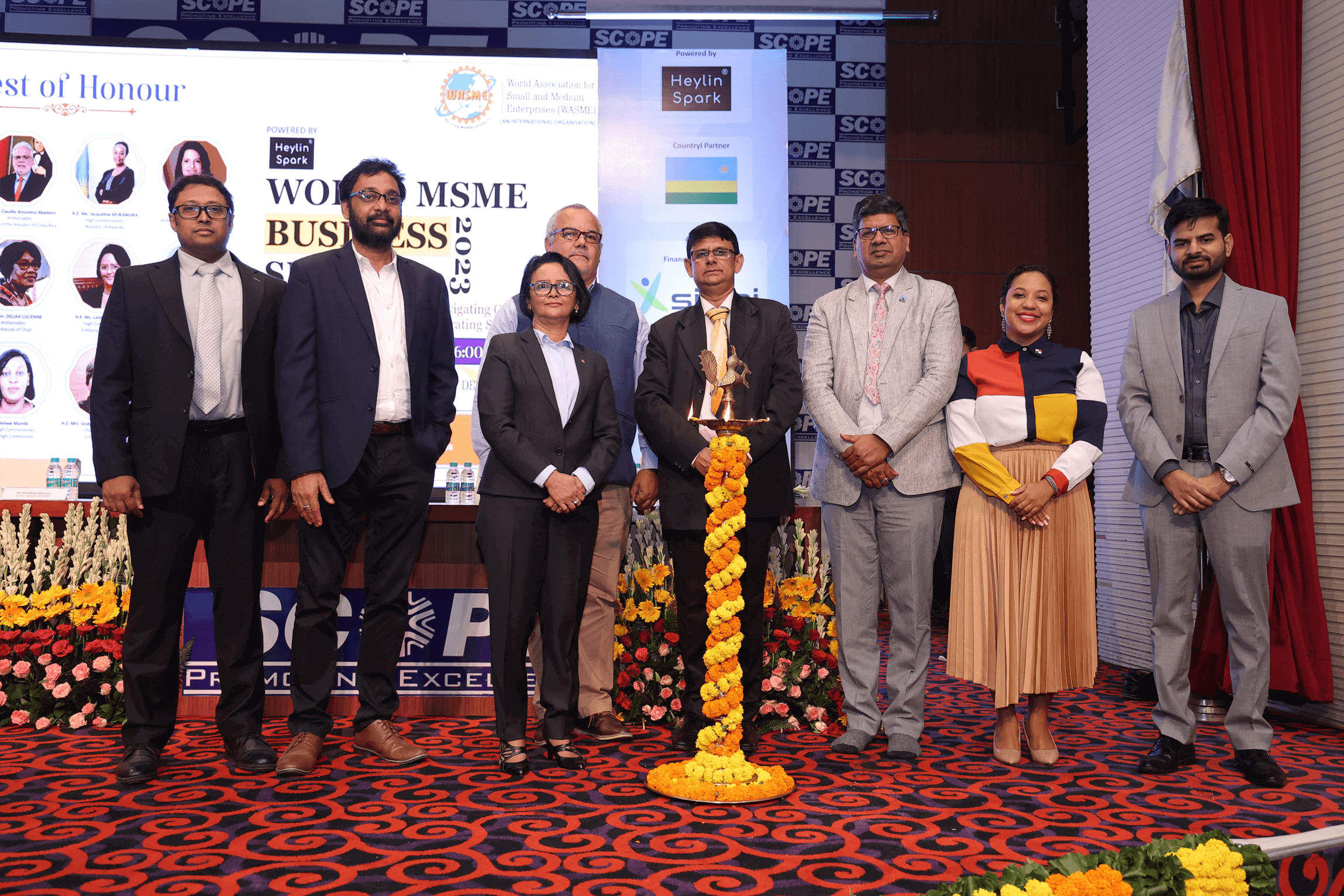 Recognizing Tech, Innovation, & Career
We are committed to revolutionizing the global tech and startup ecosystem. Our mission is to create an innovative platform that fosters growth by connecting job searchers with tech visionaries and enabling individuals for a dynamic tech landscape.
We organize major virtual events sponsored by industry leaders at the forefront of the startup and innovation revolution. Recognizing the digital era, they support digitalization, supporting businesses on their transformational path. Bringing together entrepreneurs, enthusiasts, and experts encourages cooperation and knowledge exchange, driving the IT ecosystem into the future.
Bridging Opportunities Globally
At Tech Jobs Fair, we take pride in organizing job fairs tailored for tech professionals across 16 countries worldwide.
Our mission is simple: connect IT enthusiasts with growing employment opportunities in the ever-changing tech industry. Having a strong social media network with almost 700k followers, we are able to reach the right audience and share our message. Our team is an essential link between skilled tech professionals and the world of tech-based employment.
For a detailed look at the awards we've received over time, we invite you to explore our Awards & Recognition page and join us in celebrating these milestones!
The Founder and the Team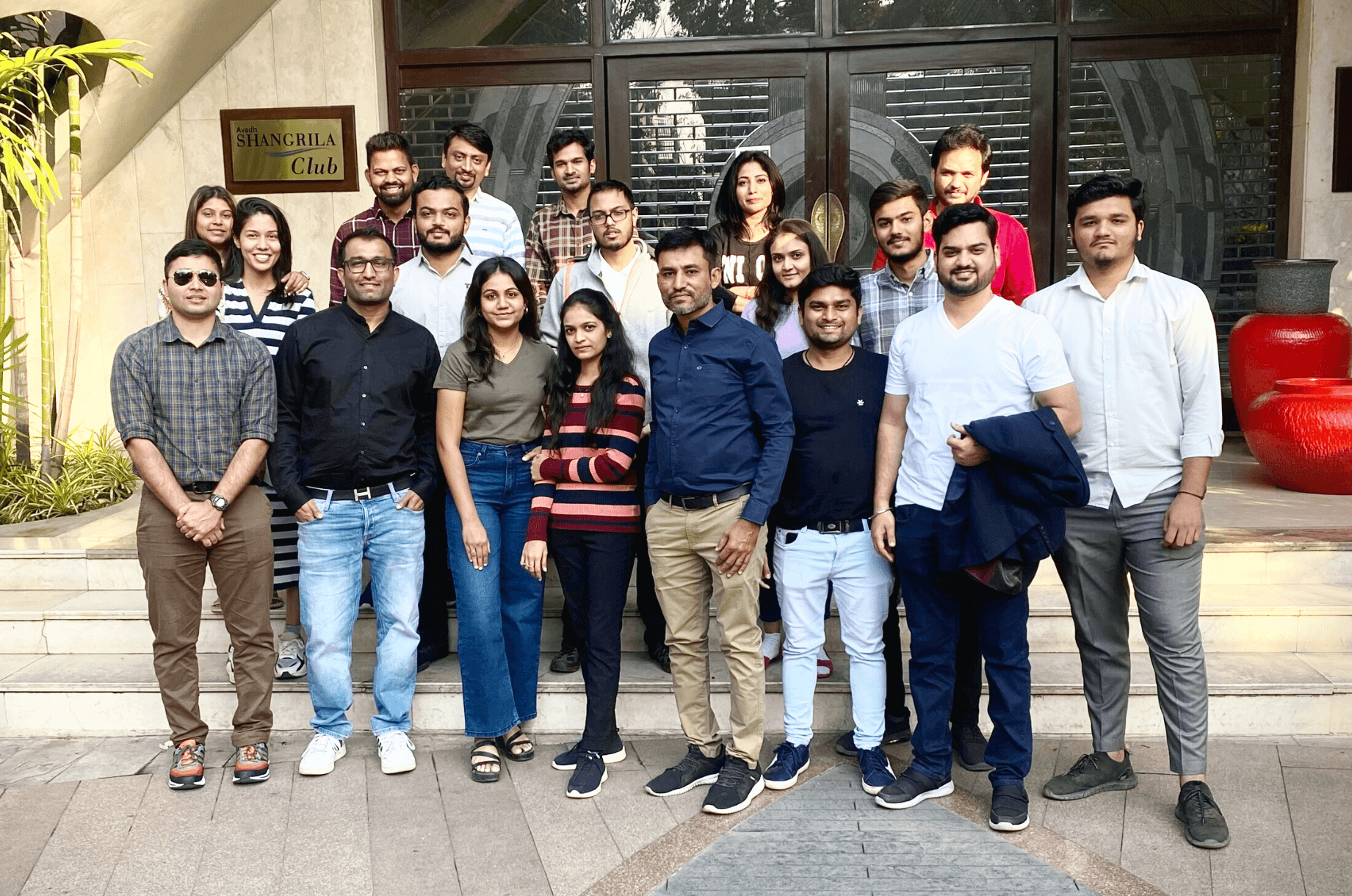 Tech Jobs Fair was founded by Ashok Dudhat, the visionary who also serves as the Chief Executive Officer (CEO), developed Tech Jobs Fair, a dynamic platform connecting talent and companies. Tech Jobs Fair, based in Berlin, has quickly grown, focusing on the IT and digital sectors.
Tech Jobs Fair, with an acronym of TJF, commenced its first edition in Berlin in 2017. In 2019, it made its mark in three commercial hubs of Europe, viz. Vienna, Zurich, and Lisbon. TJF strives to listen to its customer's needs and provide the best solutions to make their presence an exhilarating experience for them and their prospects.
Tech Jobs Fair operates with a dedicated core team based in Berlin and India, forming its operations' backbone. This team organizes job fairs by organizing events and collaborating with local professionals in various places. The team's dedication and skills are important in bringing together the top companies and individuals, ensuring that each Tech Jobs Fair event is a successful and enriching experience for all involved.
In line with Tech Jobs Fair's mission to revolutionize the hiring landscape, we have recently launched a Tech Focused Reverse Recruitment Platform known as "Hire Tech Talent," which allows companies to apply to individuals directly concerning a job rather than the traditional application, which in effect drains a person's time throughout the application process.
Thank You
In conclusion, we stand with hearts full of gratitude as we bask in the honor of being recognized as the Global Tech Event of the Year. This success would not have been possible without the constant support and participation of a large number of attendees and organizations.
This recognition inspires us to keep pushing limits, connecting people, and encouraging technology developments. As a company, we will remain committed to our goal of closing the talent and employment gap.
For more information, you can refer to the following sources:
Join 20,000+ Subscribers
Get exclusive access to new tips, articles, guides, updates, and more.