In 2020, the coronavirus pandemic significantly impacting the world's economy. Nearly every state in Europe ordered businesses to close for some time, resulting in widespread layoffs and furloughs.
In order to bring some new hope, On the 26th of November, Tech Jobs Fair organized a successful recruitment and branding event for Tech & Digital Professionals. Where many companies have conducted the hiring process. Many Speakers share their experiences and many job seekers get their dream job.
Virtual Tech Jobs Fair was another fantastic opportunity for job seekers to attach to companies. The Virtual Tech jobs fair was an event where employers, recruiters, and hiring managers met with job seekers to talk about their industries, provides info about their respective companies, and interview candidates for open positions. However, with social distancing measures in effect immediately, it was difficult to gather employers and job seekers in one place.
But thanks to technology,
Tech Jobs Fair hosted an wonderful virtual jobs fair on Balloon
Where Thousands of attendees attended and meet with each other.
Hundreds of meetings and networking sessions between recruiters and job seekers

More than 15 participating companies across Europe

Hours of great content with Keynote Speakers

Many companies represented their products, vision, mission, and job openings
Virtual Tech Jobs Fair main stage hosted fantastic talks and discussions with Keynote Speakers
Talks, presentations, and panel discussions filled up hours of great live content on Balloon using Balloon studio and backstage. Where Speakers are sharing their experience with all attendees and gave them some useful tips regarding career, technology, and innovations.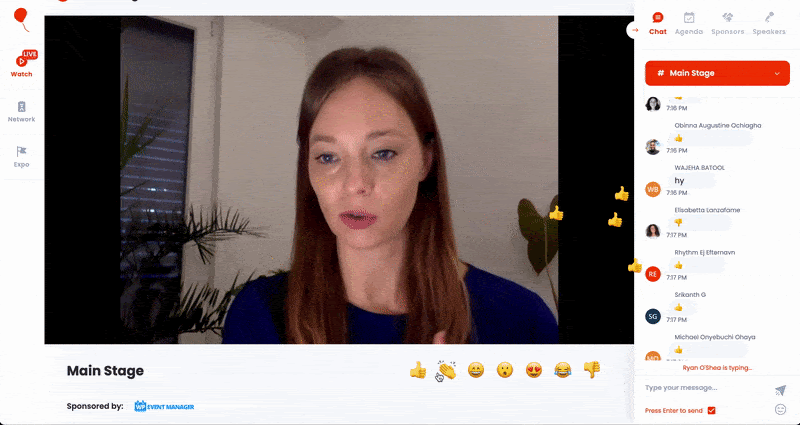 Very high engagement on 1-on-1 networking and cocktail tables 🤝
More than Hundreds of cocktail tables were created with an average duration of 8 minutes per session to meet individually. Candidates also matched with recruiters by their job category in the 1-on-1 networking.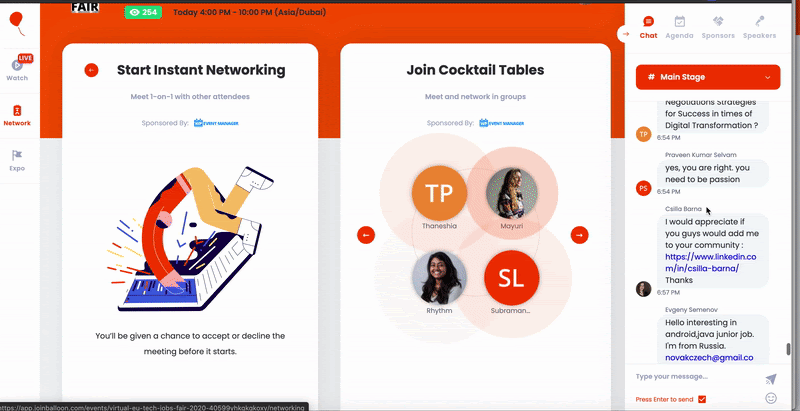 Europe's many leading companies exhibited and met with candidates
All Exhibitors hosted their live sessions, video content, and brochures in their virtual booths. So job seekers get a clear picture of companies and their overall experience. On average, each exhibitor received more than 50 leads that expressed interest. This led to generating great ROI for the participating companies.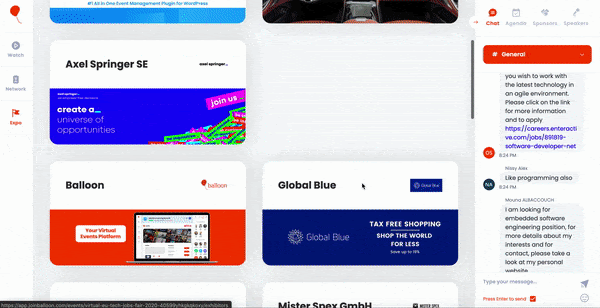 #TJF20 WAS BEYOND EXPECTATIONS. Thank You to 15+ #Exhibitors, 10+ #Keynote Speakers, 1900+ Registrations, Sponsers and our #Team.
Click To Tweet
Here is Recap of First Europe's Virtual Tech Jobs Fair 2020!
If You are looking for more jobs fair, Here is a list of all Upcoming Jobs Fair.
Join 20,000+ Subscribers
Get exclusive access to new tips, articles, guides, updates, and more.