The 8 ideal career resolutions for the 30s are covered in this blog! Although you have obtained some experience and are probably wanting to advance your professional career, your 30s can be a crucial moment in your career. Setting clear goals and making deliberate decisions will help you achieve your job dreams, regardless of whether you want to change careers, develop in your current position, or launch your own business. In this blog, we'll discuss the best career resolutions you can make in your 30s to position yourself for future success and fulfilment. So, if you're ready to take your career to the next level, let's dive in!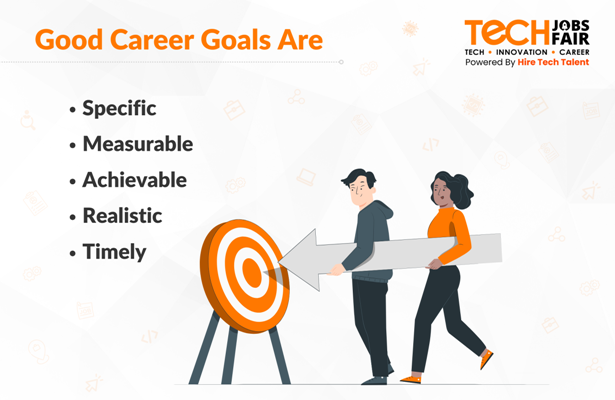 Key Career Goals to Establish in Your 30s
Choose your career goals
You must set your career goals before you can work towards them. Spend some time considering your professional goals for the next five to 10 years. Do you want to take on a leadership role, start your own company, or change careers? You can begin pursuing your goals once you clearly understand what you hope to accomplish.
Learn new skills
The employment market of today is changing quickly. Thus, it's essential to keep learning new skills. Determine the skills that are required in your sector, then begin to learn them. This could entail taking online classes, going to seminars or workshops, or even picking up skills on the job. Increase your value to companies by adding new abilities to your Resume.
Network
The ability to network is essential for career success. Spend some time establishing connections with people in your business. Participate in networking gatherings, make connections on LinkedIn, and look for mentorship opportunities. Having a strong professional network can help you learn about new job prospects, obtain career guidance, and even find new clients or customers because it's a great career resolution for the 30s. Join Tech Jobs Fair Event to build your networks.
Take on new tasks
You must be eager to accept new challenges if you want to advance professionally. This could entail joining a professional organisation as a leader, volunteering for a brand-new project at work, or even launching your own side business. By taking on new tasks, you'll learn new skills and show prospective employers that you're a go-getter.
Ask for opinions
You must ask for input if you want to advance in your career. Request comments on your work from your supervisor, coworkers, or even clients. This will give you a road map for improvement and assist you in identifying your strengths and limitations. Accept constructive criticism with open arms and use it to enhance your career growth.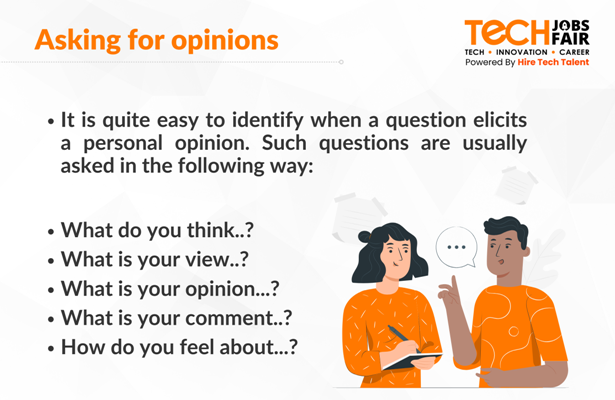 Build your personal brand
Having a strong personal brand is important in the modern digital era. This entails communicating your identity and your professional value proposition clearly and consistently. Create a professional website or online portfolio, and update your LinkedIn profile. If you develop a strong personal brand, you'll make it simpler for prospective employers or clients to find you and comprehend your distinctive value proposition.
Make work-life balance a priority
Success in your career does not require compromising your personal life. Prioritizing work-life balance is crucial to prevent burnout and maintain your physical and mental health. Put limits on your job hours, take breaks when needed, and schedule time for enjoyable hobbies and activities. You'll be more productive, focused, and generally happier if you prioritise work-life balance.
Seek to mentor
A strong career development tool is mentoring. Ask someone in your field who has succeeded in the manner you desire to serve as your mentor. They can offer direction, counsel, and support as you travel down your career path. Consider joining a professional group or looking for a career coach if you are still looking for a mentor in your field of expertise.
What kind of career can I start at 30?
A few career options are especially well-suited for people starting out later in life, while the perfect career for you will depend on your talents, interests, and experience. Here are a few examples:
Healthcare
The healthcare industry has several work prospects, including nursing, medical coding and billing, and physical therapy. There are chances for on-the-job training and apprenticeships, but the majority of healthcare positions call for a college degree or other specialised training.
Information technology
A job in information technology (IT) can be a fantastic fit if you're interested in technology. Software development, cybersecurity, and data analysis are a few examples of IT occupations. Coding boot camps and other training programmes can help you get started, but many IT careers require a degree in computer science or a related discipline.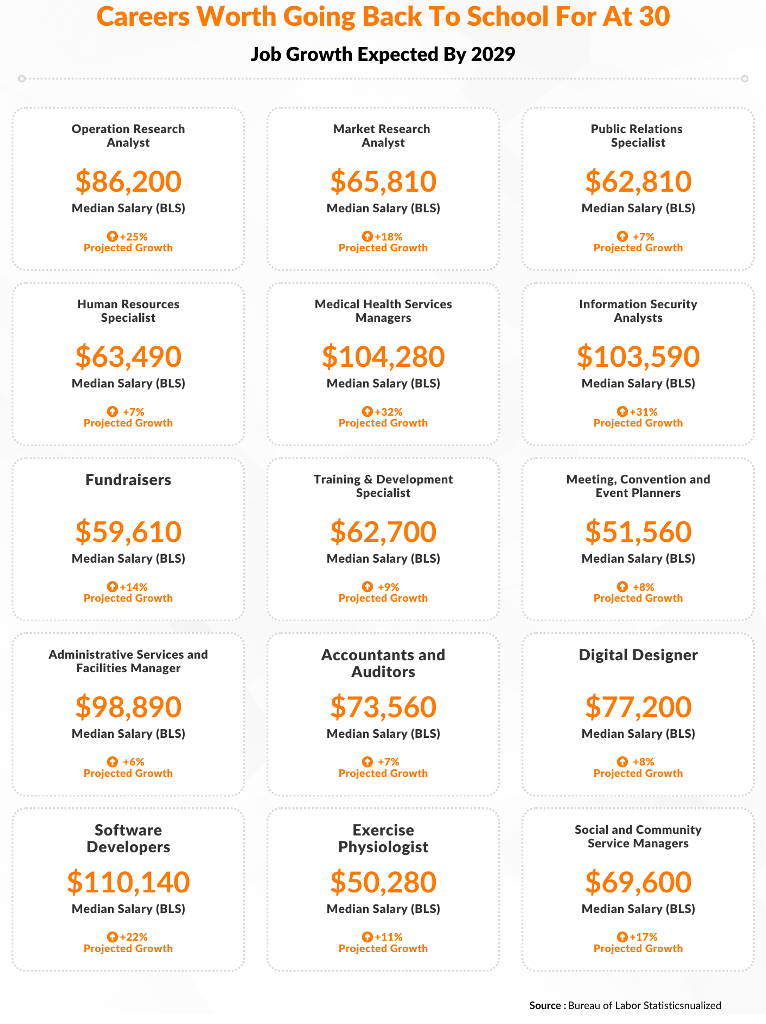 Education
A career in education can be a good fit if you enjoy working with kids or teaching. Teaching, counselling, and administration are just a few of the many positions available in education. Although a bachelor's degree is typically required for jobs in education, alternative certification programmes are available for those who already hold a degree in another discipline.
Trades
A trade career can be a good fit if you like working with your hands and want to pursue something other than a conventional office position. Carpentry, plumbing, and electrical work are examples of trades. There is an increasing need for qualified individuals in several trades, and many trade occupations require apprenticeships or on-the-job training.
Entrepreneurship
Creating your own business might be a fantastic fit if you have a great idea. While beginning a firm later in life can be beneficial because you have more life experience and a better grasp of what clients want, entrepreneurship is always risky.
How can I start a career with no experience?
It can be difficult, but not impossible, to start a profession without any prior experience. Here are some ideas to get you going:
Study the industry
Research the industry you are interested in before applying for jobs. Learn about typical career paths, relevant skills, and employment criteria.
Improve your skills
Find ways to grow your skills and expertise. This can entail enrolling in live or recorded classes, volunteering, or engaging in extracurricular activities.
Network
Meeting people in your target industry and learning about career prospects can be accomplished through networking. Attend industry conferences, sign up for trade associations, and ask your network for advice and direction.
Be willing to consider entry-level jobs
Getting a job at the entry level might be a terrific way to gain experience and understand the business. Search for positions that provide prospects for development or on-the-job training, one of the best career resolutions for the 30s.
Be persistent
It may take some time and effort to find a job without any experience. Be persistent in your job hunt, and don't give up if you don't immediately land a position. The ideal chance will eventually present if you continue developing your talents and network.
Conclusion
In conclusion, the career resolutions for the 30s are a pivotal point in your career where you can make decisions that will position you for long-term success. You can lay a solid basis for your professional success and flourish in your chosen sector by making career resolutions in your 30s.
Investing in your education and skill development, networking and relationship building, establishing clear goals and priorities, taking measured risks, and emphasising work-life balance are some important resolutions to consider.
These goals keep you motivated, focused, and on track whether you're starting a new job or want to improve in your existing one. You may position yourself for long-term success and fulfilment by considering your career goals and creating a clear plan.
Join 20,000+ Subscribers
Get exclusive access to new tips, articles, guides, updates, and more.