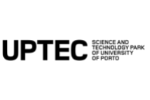 Company Size: 12
Rua Alfredo Allen nº455/461 4200-135 Porto
Founded: 2007
UPTEC promotes the integration of business projects in a multidisciplinary innovation community, with a close connection with academia, industry and investors.
Following a shared resources strategy between startups, innovation centres and anchor projects, UPTEC welcomes companies in three centres – UPTEC Asprela, UPTEC Baixa and UPTEC Mar. This approach provides projects with specialized support, connecting them to a wide and transversal network of national and international partners.
In addition, UPTEC offers a propitious environment for innovation and creation of companies, as it assumes itself as a valuable role in bridging the gap between the knowledge generated at the university and the market.
Since the beginning of its activity, in 2007, UPTEC has supported more than 630 business ideas.