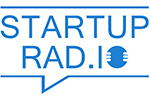 Company Size: 2-10
Alexanderstrasse 57 60489 Frankfurt, Germany
Founded: 2014
Startup Radio is an English only startup podcast and YouTube blog – internally only called IO. IO was founded in 2014 by Jörn Menninger, as a spin-off of the – now defunct – podcast startupradio.de. As of January 2018 the podcast and YouTube blog is run by Jörn.
Startuprad.io still aims to bring you news, interviews and live events from the German startup scene in English. We try to give you in-depth insights into the minds of the movers and shakers of the German startup scene. We are especially aiming for people many don't know yet.
We also provide you, as our listener, with regular news warp ups, with a transatlantic perspective. We are based in Frankfurt, in the heart of Europe and therefore have a special place in our heart for the local startup scene in the greater Rhine-Main Area.
We are aiming to bring you startups from all over Germany and a few from around the world. If you want to know more, please feel free to reach out.