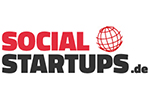 Company Size: 11-50
New York Straße 8 35510 Butzbach
Founded: 2013
Social Startups is an information platform for all those who are interested in the topic of social entrepreneurship as well as sustainable innovative business ideas, who have founded a social enterprise or would like to do so.
At the same time, we are an information portal with first interesting information for start-up interested parties.
We support students as sparring partners in their bachelor and master theses. Since even the best idea can use a jump-start, we support social startups or potential founders with strategic questions such as Viafrica or Mobile Solar Power Plants Africa.