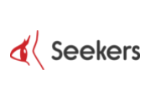 Company Size: 2
Rua Alto Barreiros 1395, 2ºEsq
Seekers is a movement that unites all those who continually seek to be better through new ideas, challenges and opportunities.
We work to help young people become more aware, giving them all of the tools they need to achieve their goals.
We give high school students all the information to be ready for college, university students we provide a range of skills to excel in entering the job market. We do this through workshops and content production for social media.
We've already helped over 3500 students across the country through our workshops (face-to-face and online) and we don't expect to stop anytime soon.