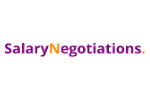 Company Size: 3-5
Antonigasse 97/7 - 1170 Vienna
Founded: 2019
Coaching – Consulting – Training
Helping you understand your worth and get the salary and career you deserve
SalaryNegotiations. is a consulting, training, and coaching company whose primarily goal is to help all professionals get a higher salary or improve their career.
SalaryNegotiations. partners with organisations and corporations who want to enable their members and employees to negotiate and advance their career and be able to discuss it at eye level with their (future) managers or clients.
We want you to understand your market value, know how to negotiate your salary or your next career step and earn your real worth.