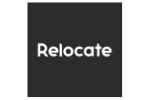 Company Size: 4
Pae tn 25-47, 11414, Tallinn, Estonia
Founded: 2017
Relocate.me is an 80,000-user strong niche job board for tech roles with relocation. 
We offer IT jobs with verified employers who are ready to help out with your move. But that's not all. We also provide tons of useful tools and information best preparing you for relocation.
Subscribe to our Telegram channel to always stay up to date on the latest available work abroad opportunities, relocation stories, relevant news, and more.