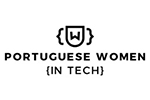 Company Size: 50
Portugal, Porto, Porto 4475-362, PT
Founded: 2017
A PORTRAIT OF THE WOMEN BUILDING THE PORTUGUESE TECH SCENE.
The Portuguese entrepreneurial ecosystem is live and kicking with lots of startups that are going global, international investments, amazing events and fantastic tech people that are working hard and non-stop to grow their startups and scale from Portugal to the World.
Zooming in, this platform comes to life as a way of presenting the Portuguese women in tech that are improving the tech industry with great startups and looking to show the outside world a more comprehensive picture of the Portuguese Women in tech that work to make things happen.
These women are leaders, startup founders, developers, marketers, journalists and explorers that are constantly looking to innovate and improve the ecosystem. They are the Portuguese women in tech and they're here to change the scenario in the Portuguese tech industry.
Be a part of the movement, join the Portuguese women in tech platform and boost this positive change.