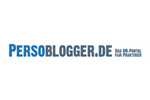 Alfons-Stauder-Straße 2a, 90453 Nürnberg 2a
Founded: 2013
HR-Manager Stefan Scheller ist Gründer von PERSOBLOGGER.DE, einem der bekanntesten deutschsprachigen Portale für die HR-Praxis. Leserinnen und Leser finden dort seit 2013 hochwertige Fachbeiträge rund um die Themen Personalmarketing, Recruiting, Employer Branding, digital HR, New Work, Learning sowie über aktuelle Personaler-Trends. Seit 2020 bietet die Seite zusätzlich einen Event-Kalender mit allen wichtigen HR-Veranstaltungen, Weiterbildungen und Messe-Events im DACH-Raum, Übersichten zu Blogs und Podcasts der Personaler-Szene, HR-Startups, Frauenkarrierenetzwerken, Empfehlungen von HR-Fachliteratur sowie eine HR-Stellenbörse. Ergänzt wird die Seite durch den Podcast Klartext HR von und mit Stefan Scheller.
Zudem ist Stefan Scheller als HR-Influencer mehrfacher Buchautor und Keynote Speaker.
ENGLISH
HR manager Stefan Scheller is the founder of PERSOBLOGGER.DE, one of the best-known German-speaking HR websites. Since 2013, readers find high-quality specialist articles on the topics of personnel marketing, recruiting, employer branding, digital HR, new work, learning and current HR trends. Since 2020, the site also offers an event calendar with all important HR events, training courses and HR events in the DACH region, overviews of blogs and podcasts from the HR scene, HR startups, women's career networks, recommendations from HR specialist literature and a HR job board. The page is supplemented by the podcast Klartext HR by and with Stefan Scheller.
In addition, as an HR influencer, Stefan Scheller is a multiple book author and keynote speaker.