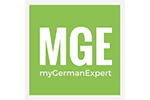 Company Size: 2-10
Gryphiusstraße 26/27, 10245 Berlin
Founded: 2011
Simplifying German bureaucracy is MGE's mission. From registering your German residence (Anmeldung) to applying for your tax ID, from getting your health insurance to opening your bank account, from filing your tax return to obtaining your certified translation — myGermanExpert is the easiest way to get settled in Germany.
Our Services: Anmeldung: After your arrival in Germany, you will have to take care of several formalities, including filling in German forms for the Bürgeramt. Everyone who takes up residence in Germany is required to register at the Bürgeramt, regardless of the length of their stay.
German Health Insurance: Since 1 January 2009, every person in Germany is required to have health insurance. Even those who will only reside in Germany for a short time must be health insured, otherwise requests for visas will be denied.ravel Health Insurances: This type of health insurance is the perfect solution for getting your visa or residence permit easily accepted. This short-term health insurance can be renewed every year and up to 5 years. Free Instant Quotes!  German Bank Account: You need to open a German bank account if you want to live and work in Germany: pay a rent, receive a salary, register as a freelancer, get health insurance, and so on.