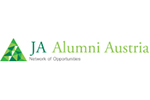 Company Size: 51-200
Rudolfsplatz 10, 1010 Vienna
Founded: 2013
JA Alumni Austria is part of JA Alumni Europe (www.ja-alumni.eu), the official European umbrella organization that unites over 20 active member countries.
The more than 4'000 active members are successful entrepreneurs, volunteers, leaders or young professionals from numerous disciplines, such as tech, business, finance, education, IT and medicine. By means of diverse activities, like for instance, leadership conferences, entrepreneurship competitions, inspirational campaigns and professional events the "Network of Opportunities" empowers and supports its members to unfold their personal potential and extend their entrepreneurial mindset.