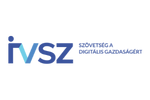 Company Size: 20
1077 Budapest, Wesselényi utca 16/a
Founded: 1991
IVSZ – ICT Association of Hungary is a common platform for the IT, telecommunications and electronics industries, as well as for the digitalising sectors, promoting and evangelising the development of the digital economy. It acts as a representative of issues, industrial and societal interests above direct business objectives. The association is a compass, a knowledge repository and a communications organisation to support businesses and policy makers and raise the profile of the IT sector. 
As the professional representative of more than 350 member companies, IVSZ has been working for more than 30 years to alleviate the shortage of IT specialists in Hungary, to accelerate sectoral and SME digitalisation, to create the right regulatory environment and to establish dialogue between stakeholders. In addition, IVSZ has also set as its flagship the catalysing of the increase of software and services export, and the improvement of the global market access of domestic ICT companies, and by participating in European Union and regional projects, it brings our country's ICT sector into the international mainstream.