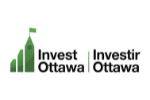 Company Size: 11-50
Bayview Yards 7 Bayview Station Road, Ottawa, ON K1Y 2C5, CA
Founded: 1983
Invest Ottawa, is Ottawa's leading economic development agency for fostering the advancement of the region's globally competitive knowledge-based institutions and industries. Invest Ottawa delivers its economic development services through a unique partnership with the City of Ottawa, where the City and Invest Ottawa, through its members set the strategy and manage the programs that move Ottawa's economy forward.
Invest Ottawa is a non-profit, partnership organization that operates on an annual budget that comes from a variety of sources including: municipal, federal and provincial government; membership fees; professional development programs; and private sector contributions.