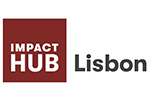 Company Size: 10
R. 1º de Maio 103, 1300-472 Lisboa, Portugal
We are Impact Hub Lisbon and we believe in the power of humans, businesses and collaboration to make the world a better place.
Workspace, community, programs, events and corporate social innovation consultancy – we cultivate opportunities for positive impact.
Last but not least, we are part of a Global Network of Impact Makers with more than 101 Impact Hub locations over the world.
Our mission:
We are here to cultivate opportunities for positive impact. We want to connect unlikely allies to enable purpose-driven individuals to create a larger impact together – no matter what their background is. We want to inspire and empower people and businesses to be more impact-driven, conscious and sustainable.