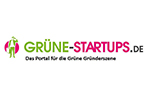 Gormannstraße 14 10119 Berlin
Grüne Startups is the platform for startups on the topics of sustainability and green innovations. The portal reports on start-ups in green markets such as renewable energies or e-mobility and makes green success stories visible. Users are startup entrepreneurs, investors, experts and consumers with an affinity for green business issues.
We, Marcus Noack and Romek Vogel are green founders of passion. For 10 years we have been involved in the green economy. Our creations include, among others, the Germany-wide portal for green lifestyle LifeVERDE.de (formerly Umwelthauptstadt.de) and the green job portal JOBVERDE.de or the travel platform Holiday VERDE. Due to the reputation of our brands and the reach of the portal family, we can guarantee you an optimal perception of your offer and also advise you professionally.
With the platform Grüne-Startups.de we would like to inspire the global trend towards green business ideas and provide all green founders with the necessary tools for economic success. In addition, we are networking the "New Green Economy" and introducing interested start-ups to all those interested in green markets.