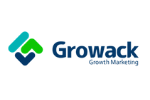 Company Size: 5
Wibautstraat 131D Amsterdam, Netherlands
Founded: 2017
Growack Media helps SMBs and Growing technology-based businesses with Integrated Inbound & Growth Marketing Solutions via Growth Marketing-as-a-Service (GMaaS). We help with Growth Systems, Strategy, and Iterative executions and Partnered with MarTechs such as HubSpot and Salesmango, with full Commitment for designing revenue-driven growth roadmaps. The process and results are consistent and span across industries including Life-sciences/Med-Tech, Software-Products, Logi-tech, B2B Marketplaces, B2B E-commerce, and Mar-Tech/Growth Upskilling training.
Our collaboration style is lean and flex= FreeGency. We work as part of your growth team, an extended marketing team, and can start at any level from scratch & blank canvas to high-level strategy or demand gen roadmap for sales alignment.