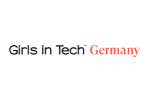 Company Size: 30 in Germany
Marcela Mogilska, Berlin
Founded: 2021
Girls in Tech is a nonprofit organization dedicated to eliminating the gender gap in tech. At Girls in Tech, we are passionate about inclusivity, because we know that tech today requires people of all skills and backgrounds. Whether you're a data analyst, a creative, a strategist or a coder, you are needed.
We're committed to building the diverse and inclusive tech workforce the world needs. And we aim to see every person accepted, confident, and valued in tech — just as they are!