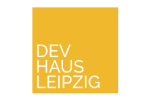 Company Size: 12
Erich-Zeigner-Allee 64b, 04299 Leipzig
Founded: 2019
DevHaus started as a project for internationals to better connect with Leipzig's tech ecosystem through coding bootcamp and events for the whole community, developer or not. We pride ourselves on having a high degree of flexibility, commitment to better through experimentation, and allowing each other to be our authentic selves. We've created a working and learning environment that regularly brings our 50+ alumni and crew of instructors back to share knowledge, work with us on projects, and chill at our space. 
Whether you want to be a programmer or entrepreneur, we want to provide a hybrid co-working space for you to become experts in your chosen field. One of its kind in Saxony, Germany, Devhaus Leipzig wants to bring forward compassion and solidarity in exploring artisan-ships in the EdTech world. 
DevHaus is committed to building an inclusive team that represents a variety of backgrounds, identities and perspectives. We would like to give a platform to people who feel underrepresented in the EdTech field and encourage them to take on leadership roles in different phases of their career. Therefore, we particularly encourage applications from people personally affected by several forms of structural discrimination for the web developer course. Diversity is a requirement for building great products in a globalized world because great products are accessible. We want to work with people who live full lives beyond skills or education, have walked their own path, and who inspire curiosity.