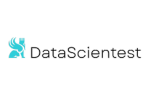 Company Size: 130
Berliner Str. 56, 77694 Kehl
Founded: 2017
DataScientest is a next-gen training institute and expert for Data Science that provides hands-on, high-quality online data courses that are university credit-rated and job-focused – enhanced by technology, but delivered by humans. As such, we are proud to be today's European leader in the field of Data Science education for individuals & businesses.
We train people, whether with previous knowledge or complete novices, and help them become Data Analysts, Data Scientists or Data Engineers – among other things – and guide them until their dream job. From as little as 9 weeks, you can learn to code on programming languages such as Python and SQL and master the most important tools all in order to be perfectly prepared for your career in Data.
The advantage with DataScientest: We believe that practice makes the difference. With us, you code from the very beginning and are thus ideally prepared for your professional future! Furthermore, you can benefit from a state-of-the-art training format, combining real full-time professors and an interactive learning platform where you learn to code by coding, world-class partnerships such as with the University of Paris Sorbonne, Microsoft and AWS. The cherry on the cake, our courses are tested and recommended by Fortune Global 500 companies such as Allianz.
Our unique pedagogical format has already convinced over 10,000 successful graduates and more than 70 Fortune Global 500 companies in only 5 years. What are you waiting for?
We love what we do and we help you to become what you love!