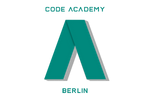 Company Size: 7
Erich-Weinert Straße 145, 10409 Berlin
Founded: 2020
Code Academy Berlin has been founded with the vision of creating a unique, local and familiar learning environment for talents from all over the world. We strongly believe that starting a new career is more than just acquiring knowledge, but is about the experience along the way. Our syllabuses in Data Science and Web Development are designed to give you the opportunity to follow your own ideas, take ownership of your personal projects and reach your individual milestones.
All our classes are happening in full-time, on-site at our beautiful campus in Berlin Prenzlauer Berg.
Following the agile / SCRUM framework, we teach hands-on skillsets in high demand at the local job market.
This made us also an official training partner of companies like Zalando.
Code Academy Berlin's programs are designed for beginners, with no pre-knowledge or prior exams needed.
In 3-5 months we will welcome you to join us as a student and enjoy a great working environment, as well as non-limited job support with our experienced mentors & coaches.
If you would like to learn more about our syllabus, methodology, or day-to-day life, we would be happy to invite you over and support you on your journey of becoming a Web Developer or Data Analyst.