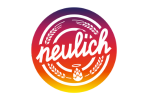 Company Size: 30
Brauhaus Neulich GmbH Selchower Str. 20, 12049 Berlin
Founded: 2016
Neulich Bier – Ein Bier für Berlin.
On the lake back in 2016 we came up with the idea to create our own beer and thought: "Let's make it happen!"
That was when "Neulich" was born.
The first beer made out of hops, malt and #MachDoch.
Today we raise a glass to all those who believe in them-selves, encouraging them to put their words into actions, to be pioneers. In other words: #MachDoch!