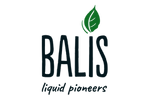 Holzstrasse 17, 80469 Munich
Founded: -
The idea for BALIS was born in Loretta Bar in Munich over a fresh gin basil mule. The unmistakable aroma of basil, the mild spicy flavor of ginger, the finely sour lime – this is exactly the refreshing taste that we wanted to bottle. Said, done. BALIS was born.
BALIS basil ginger lemonade is the perfect balance between sweetness and spiciness. A drink that is refreshingly different and surprisingly versatile. Whether pure, as BALIS Spritz or BALIS Mule with gin, vodka or amaro, BALIS hits the mark.