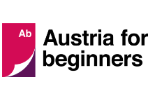 Company Size: 2
Apollogasse 4/7, 1070 Vienna, Austria
Founded: 2016
Austria for beginners is a Vienna-based non-profit organization that fosters integration by making the Austrian legal system understandable and accessible for expats and their families.
Our team of legal professionals offers free legal consultations in English, German and Bulgarian languages in the following areas:
Immigration law
Administrative law
Social insurance law
Contract law
For the times you need things done for you, we offer various life-saving services. Even if you speak German well enough, the administration often uses its own lingo. Hiring us will save you time, money, and headache.
Please note that the listed services are paid. Our hourly rate is 40 euros/hour. Forms are subject to an individual tariff.
Filling out various forms – address registration, visa application, family benefits, social benefits, health insurance etc.
Communication with third parties – per email, phone, and post
Accompanying and translation – any institution and administrative office, as well as in private dealings (i.e. landlords, doctor's appointments etc).
Recognition of university diplomas and professional qualifications