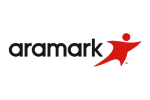 Company Size: 6500
Martin-Behaim-Str. 6, 63263 Neu-Isenburg
When culinary's finest meet the best in hospitality, unforgettable moments happen.
At Aramark, we create memorable food experiences where people work, learn, recover and play by channeling a collective passion for food and service.
Since 1936, Aramark has long been recognized as the trusted leader in service. We attract talent and clients that share a passion for hospitality. We're continuously inspired to find new ways to go beyond what's expected and to create experiences that are truly remarkable.
We share a passion for hospitality, it's at the foundation of everything we do. We embrace our responsibility to our people, our communities, and our planet. And, while the services we provide, and the industries we serve, are extensive, we never waver from our people-first approach.