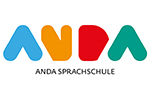 Rigaerstr. 104 10247 Berlin
The Anda language school is a cozy language school with two central locations in Berlin Friedrichshain and Berlin Prenzlauer Berg. Our students are always at the center of our attention. We want you to learn German, English, Spanish or any other language of your choice as easily as possible. We know from experience that languages ​​are easier to learn the more motivated the learner is. That's why our language school employs only experienced native speakers who can infect and motivate others with their enthusiasm for language learning.
In addition, we offer a wide range of different forms of instruction: from intensive courses in various intensive levels for German, English or Spanish, to private lessons and language courses for companies and language trips abroad. Even if you want to learn French, Portuguese or Italian and are looking for a suitable language school in Berlin, you are guaranteed to find the course that suits your individual needs. Of course we also offer German as a foreign language or German for foreigners.