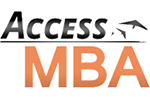 103 rue La Fayette Paris, France
Founded: 2004
Access MBA is a project of Advent Group, an independent media agency established in 2004 and specialised in Higher Education. The company is comprised of over 100 experts from 10+ nationalities that provide personalised services for international business schools and prospective students. A unique matching service aims to connect 50,000 qualified candidates with over 200 top business schools through the organization of over 125 international events per year.
As founder and, by far, the worldwide leader of "One-to-One" education events, Advent Group's mission is to develop awareness about international business education opportunities. The Advent team provides prospective students with holistic support, from selecting the right programme to guiding them successfully through the Admissions process.