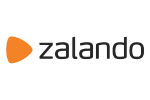 Company Size: 17,0000
Valeska-Gert-Straße 5
Founded: 2008
Founded in 2008 and now a leading European online platform for fashion and lifestyle, Zalando brings head-to-toe fashion to more than 51 million active customers in 25 markets. In our fashion store, you can find a wide assortment from more than 7,000 brands.
Come meet us to get insights into what it is like to work at the company, find out about open roles and get advice on the application process.